With Amazon Emerald, you can see select business performance notifications directly within Seller Central and navigate to Jungle Scout to learn more.
💡 Connect to Amazon → In order to use this feature, you need to connect your Seller Central account first. Please go over our 📘 Connect to Amazon → Adding your Seller Central Account to Jungle Scout article for step-by-step instructions on how to complete this process.
Feature Overview
You can find the

Jungle Scout Emerald Notifications App

as a widget in the Home Dashboard inside Seller Central: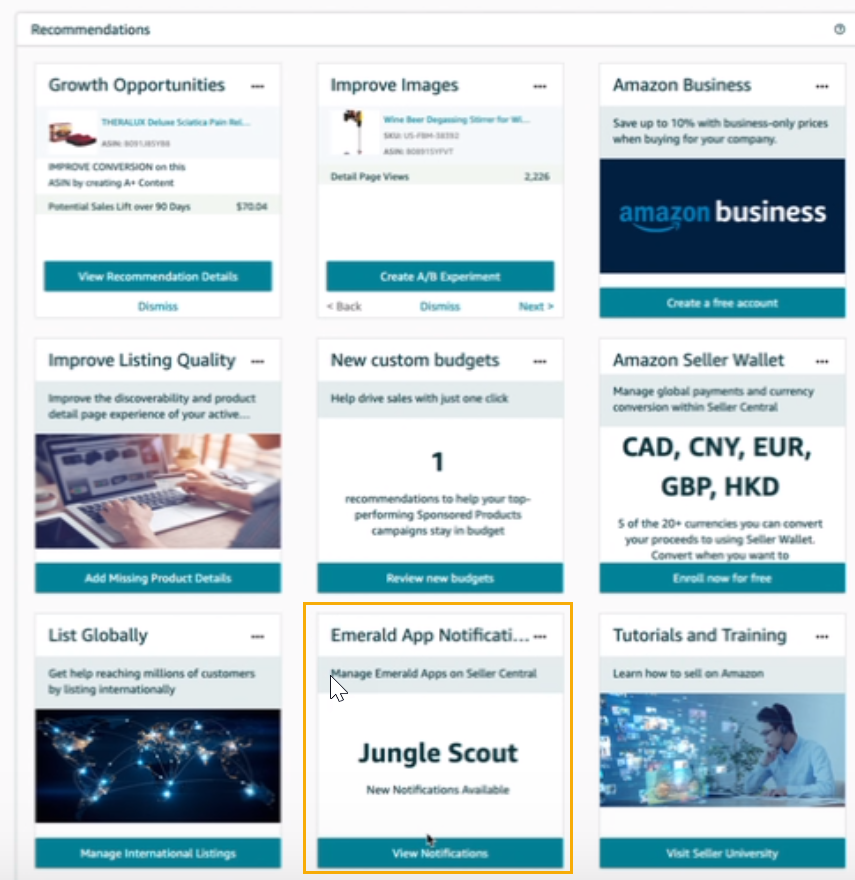 Click View Notifications to open a pop-up window with more information:

The first two notifications will give you updates on Review Automation:

Get information on how many marketplaces you have activated this feature on.
Receive notifications on how many review requests were sent out in the previous month.

By clicking "Open Jungle Scout" or the "Click here" option on either one of these notifications, you will be redirected to "Review Automation" inside Jungle Scout.
The Weekly Profitability Report will take you to the Profit Overview inside Sales Analytics. The last week will be selected by default to match the information displayed in the notification.
Enabling Notifications
If you have previously connected your Jungle Scout and Amazon accounts, you'll need to re-authorize JS in the Manage Your Apps section in Seller Central:

Otherwise, just follow the steps described above ("Connect to Amazon") and you will have access to Amazon Emerald as soon as
For more information about this feature or Amazon Emerald in general, we recommend the following article 📄 What is Amazon Emerald? View Jungle Scout Notifications in Amazon Seller Central