Whenever someone has a problem registering an account with Jungle Scout, these steps resolve the issue 99% of the time, so thank you in advance for taking the time to do this. :)

1) First, please close out your browser if you're not in Google Chrome, download Google Chrome and then re-open the extension in Chrome. You can download Chrome by following the directions in this Google support article. If that doesn't work, then...
2) Make sure you are using the card's current billing address, it's very important you use the current one registered with the bank for the card you want to use, otherwise, it will get declined by our card processor. If that doesn't work, then...
3) Check to see if you have ad blocking on your computer. If it turns out you do have ad blocking software on your computer, you'll have to disable that program and/or add Jungle Scout to its 'approved' list. If that doesn't work then...
4) Please check your firewalls/antivirus by running through the following:
Go to www.junglescout.com and go through the registration process again, but this time stop when you get to the page that asks you to enter your credit card information.
Right-click that pop-up window and then click 'Inspect'. It should be at the bottom of the tab that appears.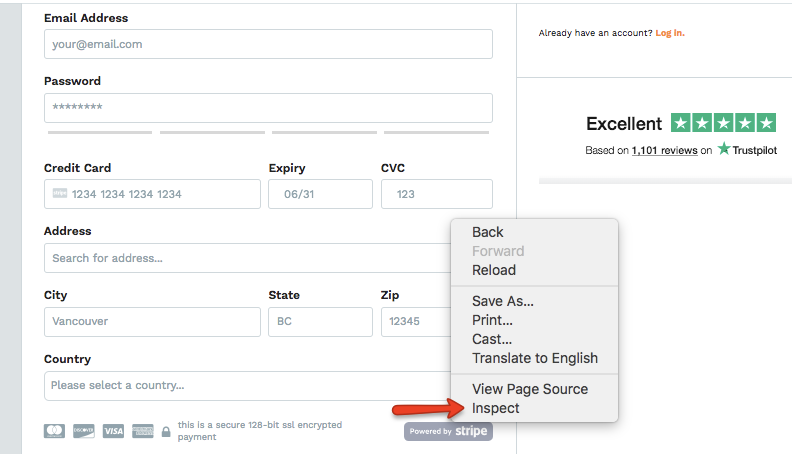 When you click 'Inspect', your screen should split. Please click on the Console tab at the top of that window, located to the right of the 'Elements' tab.

If there is text highlighted in red in the console window, that might mean you have an antivirus or firewall blocking your registration. You will have to edit your firewall or antivirus settings to allow your Jungle Scout registration to go through.