Keyword Lists will help you stay organized and ensure you are using the best and most relevant keywords at all times. You can find this feature under the Keywords section on the left-hand navigation panel.
Creating a New Keyword List
To create a new list, just click the Get Started button. You'll see a small pop-up window where you'll be able to give your list a name (it can be your product title or idea). Hit the Create List button to save it.

Alternatively, if you have already created one or more lists, you can create a new one by selecting keywords from any list and clicking on the relevant action button, or clicking the + sign tab. More on this as we move along these steps.
Now head over to Keyword Scout to start searching, filtering results, and adding the most relevant keywords to your new list.
Enter a keyword or ASIN in the search box, browse through the results, then tick the checkboxes next to the keywords you want to add to your list. Next, click the ⊕ Add Keyword to List button. You'll be able to select whether to add your keyword(s) to an existing list or create a new one. You'll be able to review and edit this information in the Keyword Lists section at any time.
Once you have one or several lists ready you can go back to Keyword Lists to manage your options. Click on the expandable menu to access the Edit, Import, or Delete list options.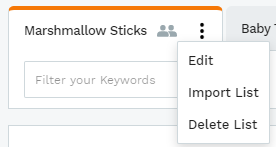 💡 For instructions on 📘 Importing your own Keywords to Keyword Lists head on over to this article.
You can also choose which columns you want to see displayed by clicking the column selector icon and add new keywords by clicking on the corresponding button: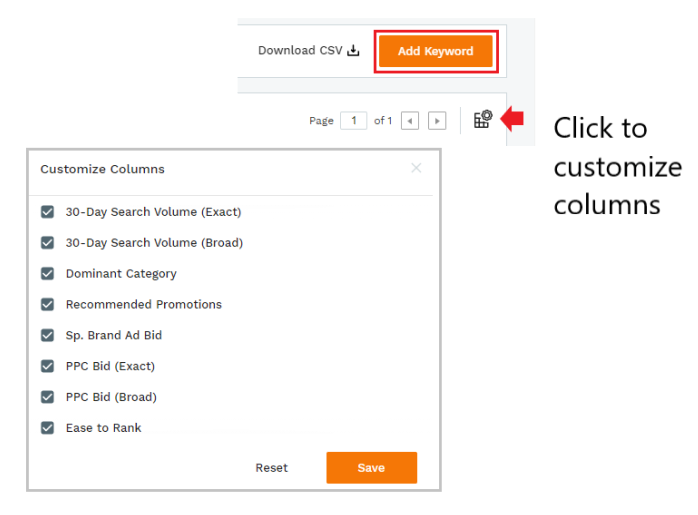 Finally, by clicking the checkbox next to a keyword you can delete and move keywords, or create a new list: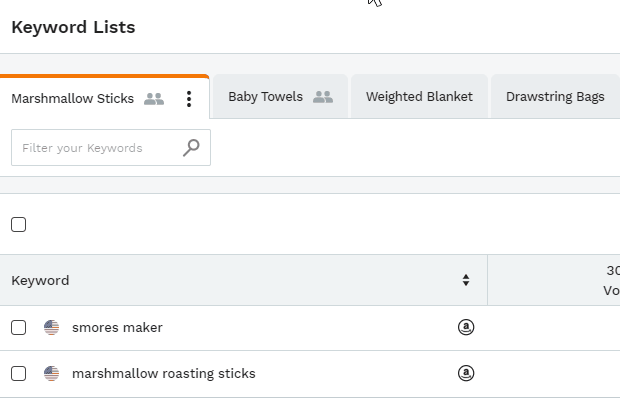 Time to create your own Keyword Lists!