The Keyword Lists feature in the Keyword section of Jungle Scout is a great place to keep all your keyword data organized, up-to-date, and optimized.
Within the Keyword Lists section, you have the ability to add keywords from Keyword Scout as well as importing any lists that you have been keeping elsewhere (like in a spreadsheet or document).
You can even combine suggested keywords from Keyword Scout with your existing keyword lists!
More Options
If you click More Options on the keyword list group tab you wish to edit, you'll see the following available actions: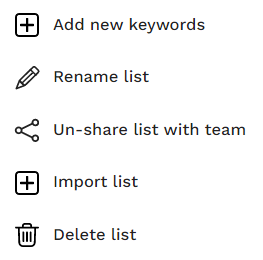 Add new keywords → To add a single keyword, just select the relevant marketplace from the dropdown, enter the keyword you want to add to the list and click Save
Rename List → Use this option to give your list a different name. Just click on the Rename list option and start typing. The new name will be saved automatically.
Share/Un-share list with team → You can click on this option to start or stop sharing access to a specific list with the rest of your team. Keep in mind that if you choose to share a list with your additional users, they will have access to all customization options, including deleting or adding keywords as well as editing/deleting the full list.
Importing keyword lists →

Select

Import List

.

Next

, i

n the pop-up window, choose the correct marketplace from the dropdown,

copy and paste the keywords from your external source and click

Add to List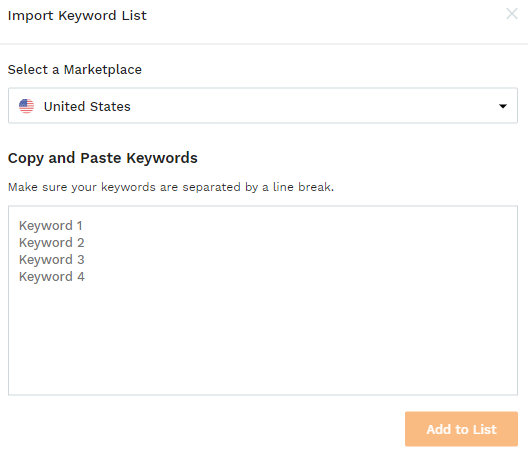 💡 Each keyword must be on a line of its own for the import to work.
Deleting a list → Click this option to delete one of your lists.
Additional Actions
There are some additional options that you can take directly from the table header when selecting a specific list:
Search Keywords → Enter a specific keyword or phrase in the search field to pull up matches inside your list. This option lets you filter and edit your lists a breeze, especially for larger lists with hundreds of keywords.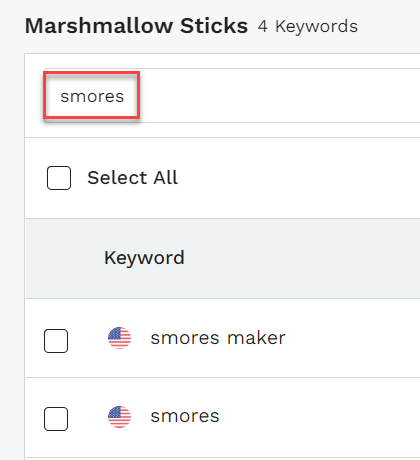 Download CSV → Click this option to export your list of keywords. Name your file in the pop-up and choose a location to save your file.
Create New/View Notes →

This option lets you create notes to keep tabs on important information such as search trends to further analyze and optimize your keyword lists.
💡 Keep in mind that the Create New Note option will be replaced by the View Notes option once you add your first note. Afterward, you can see and add a new note by clicking on the View Notes option:

Add Keywords → You can also add a single keyword (short or long tail), following the same steps in the Add new keywords option in the group/tab section.
Customize Columns → Click the Customize Columns icon to select which options you'd like to include in the results table.

Keyword Selection and Keyword Options
You can choose to "Select All" keywords by ticking the box next to that specific header or select individual keywords from the list. This will activate additional options for you:

Move Keywords → This option lets you move a keyword from one list to another. Once you click this button, you'll see your available lists so you can select which one you'd like to move the keyword to.
Create New List → This option lets you add the selected keyword to a brand-new list. Just give your list a name, select whether you want your team (if applicable) to have access to the new group, and click the Create List button.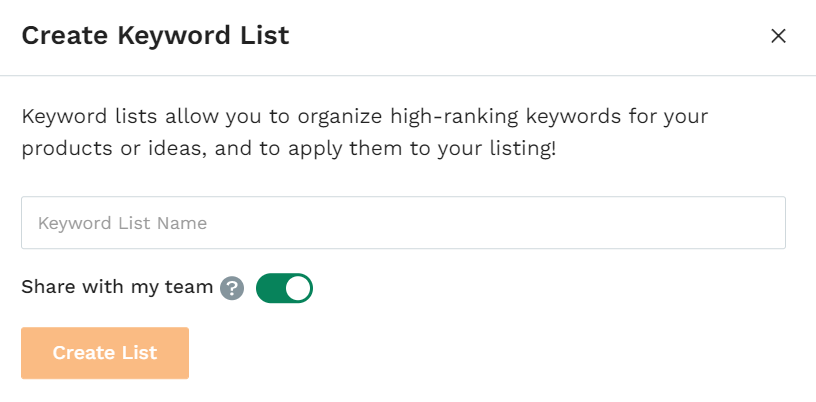 Delete Keywords → Finally, this option lets you delete previously selected keywords from your list.
---
📙 For information on the different columns and metrics, read our Understanding Columns and Filters in Keyword Scout article.