With our Listing Builder feature, it's easier to create competitive listings by using the best keywords for your product and optimize their placement in your Amazon listing. You can either add any keywords you've previously saved to Keyword Lists using Keyword Scout or create keyword lists on the spot.
Using Listing Builder
Navigate to the Listing Builder under Keywords from the left-hand navigation panel
Click the Get Started or Create Listing button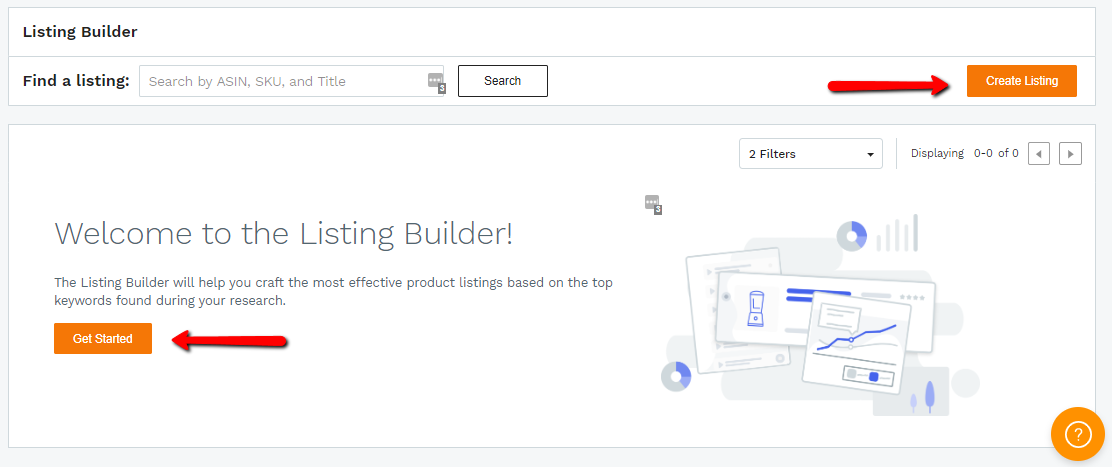 Next, you'll have the option to Draft a Listing, Optimize an Existing Listing, or Start with any ASIN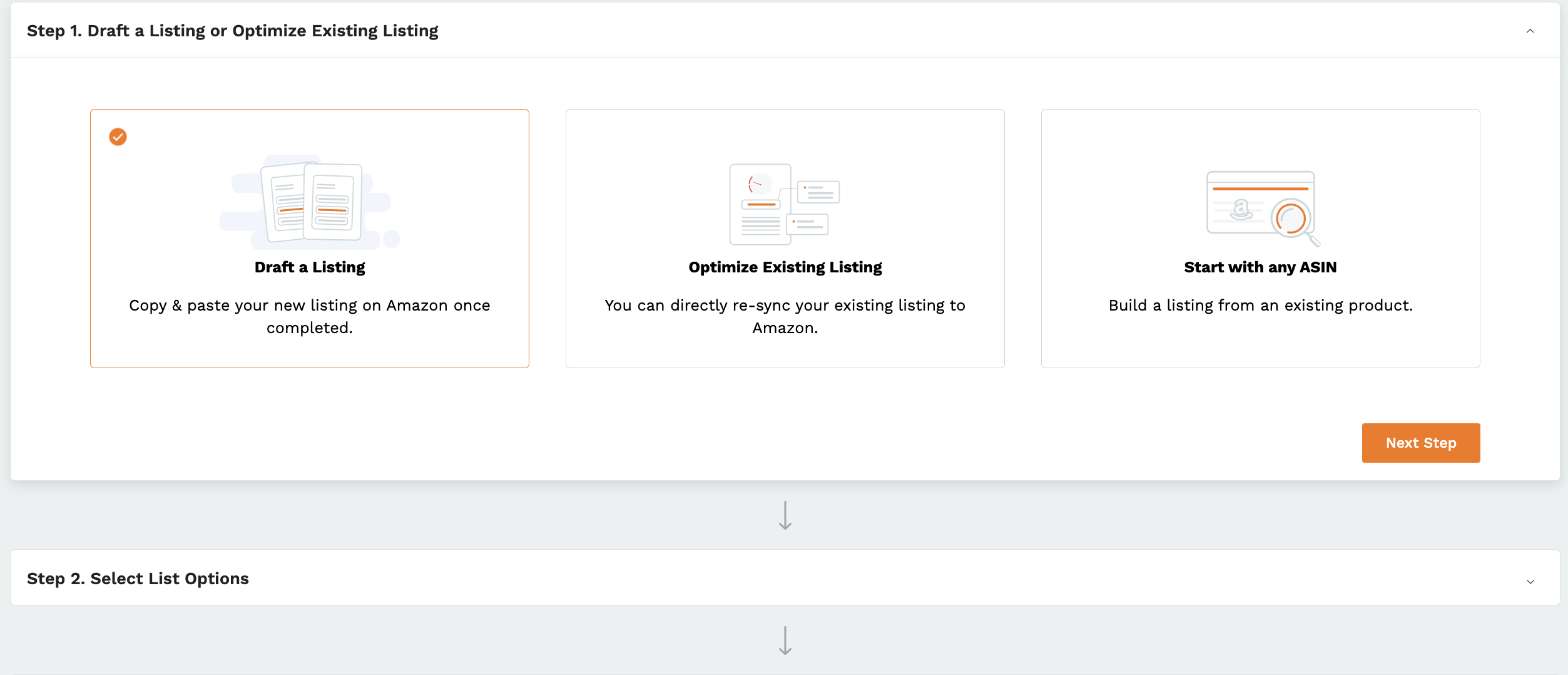 💡 Note that you need to connect your Seller Central account in order to optimize an existing listing. Make sure you read our 📖 Adding and Syncing your Amazon Seller Central & Jungle Scout Accounts article if you need more info on how to complete this step.
Drafting or Optimizing a Listing
Select either the Draft a Listing or the Optimize Existing Listing option and click Next Step (if you are Optimizing an Existing Listing, choose a Product from the dropdown first)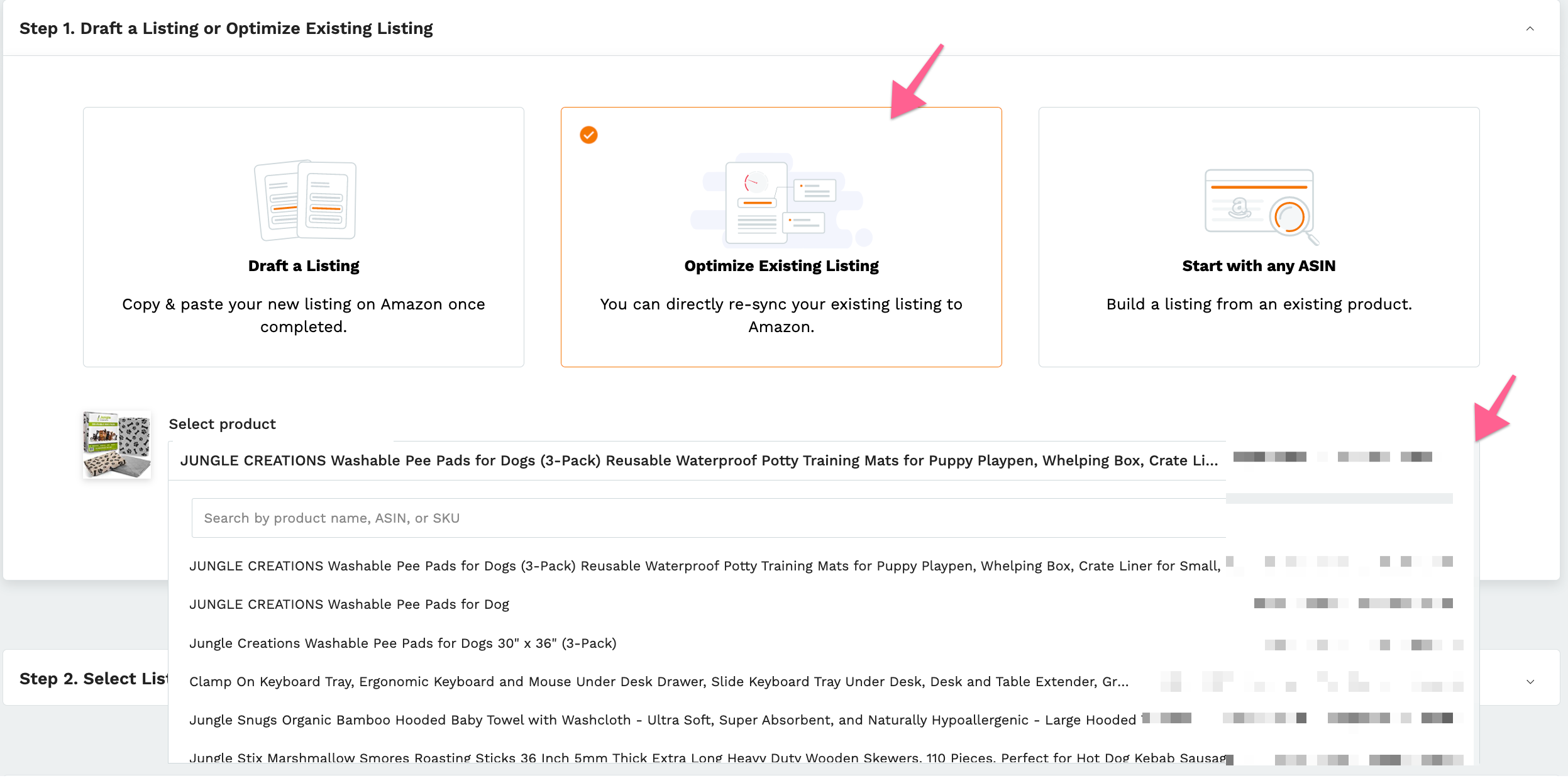 You can use the "Start with any ASIN" option if you would like to see how well your competitor's listing is optimized


When you start with any ASIN, the Listing Builder will automatically pull all the keywords visible on the listing (the backend search terms won't be included) and will let you know the Listing Optimization score for the listing
In Step #2 you'll be able to select your keywords. You can choose an existing Keyword List, create one from scratch, or a combination of both (use previously saved lists and create a new one)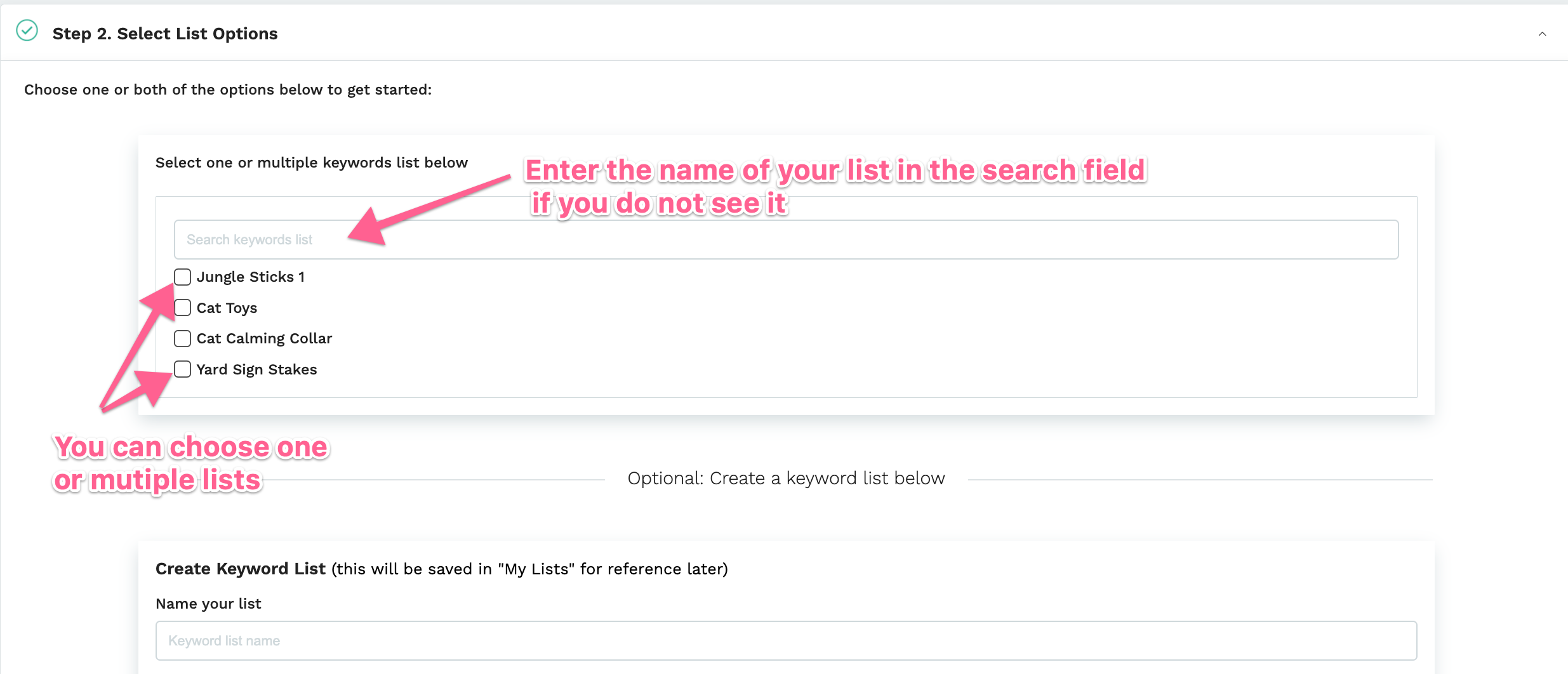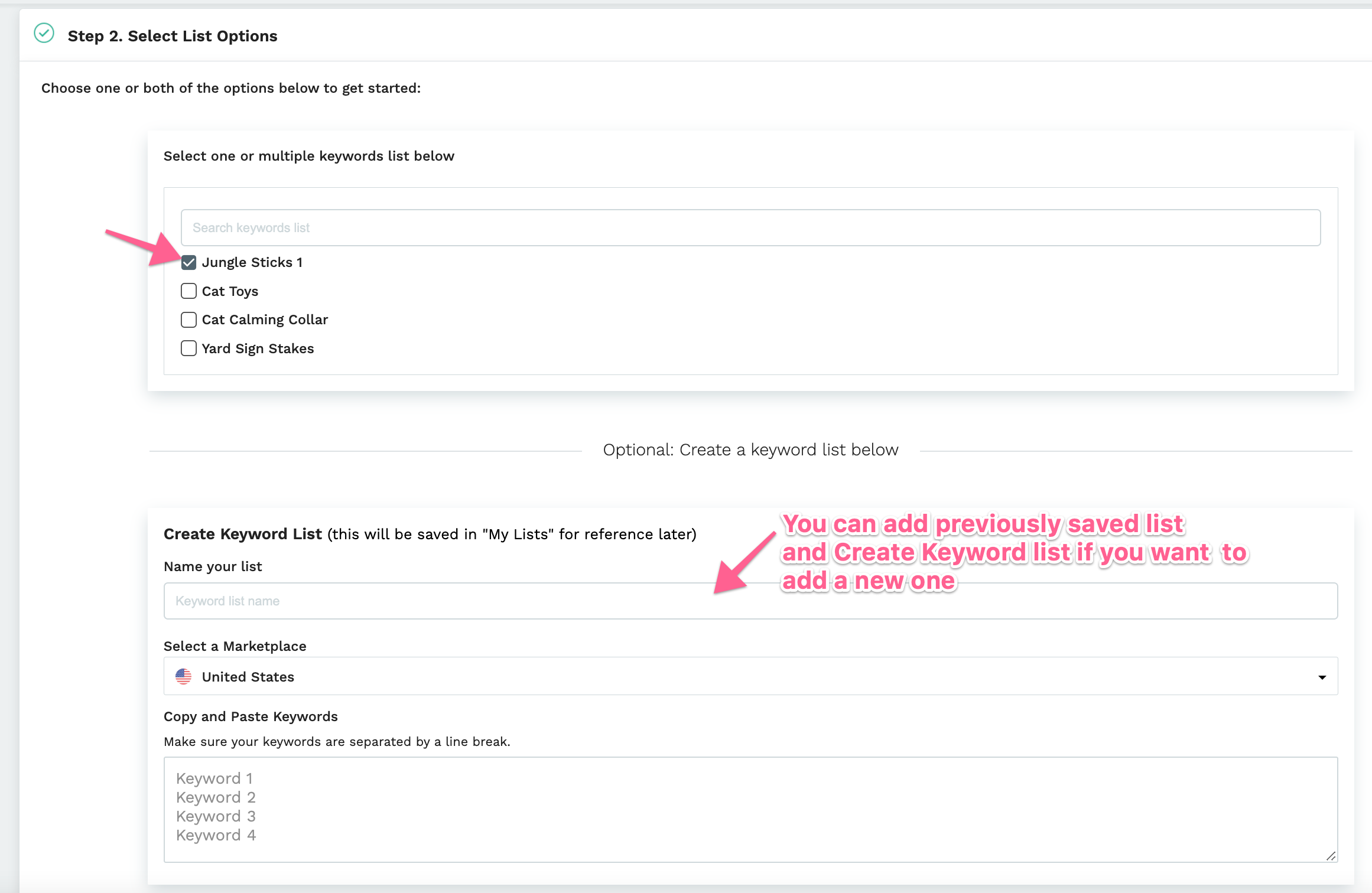 To Create a new Keyword List, just enable this option and scroll down to this section. Fill out all the required information

After choosing your keyword options, click Apply
Now it's time to Process Keywords. You'll see several options to optimize the keywords you imported from your lists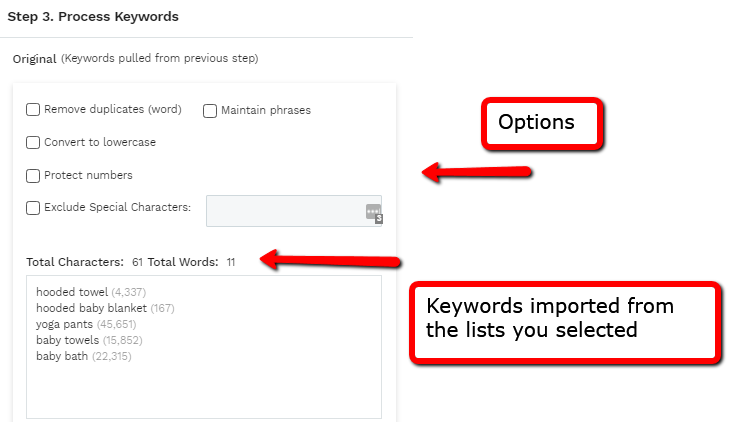 These are the options you can choose from to tidy up your list(s):
• Remove duplicates (word) → Avoid using the same word twice
• Convert to lowercase → Change all words to lowercase
• Protect numbers → Keep any numbers in your keywords
• Exclude Special Characters → Exclude special characters (type these characters in the provided field)
• Maintain phrases → Keep your phrases (otherwise, keywords will be split into words)
Choose the options you want to apply to your list(s) and click Process. You'll see the results on the right based on the criteria you selected. You can also sort by alphabetical order, length, or search volume. Once you are happy with your results, click Apply & Next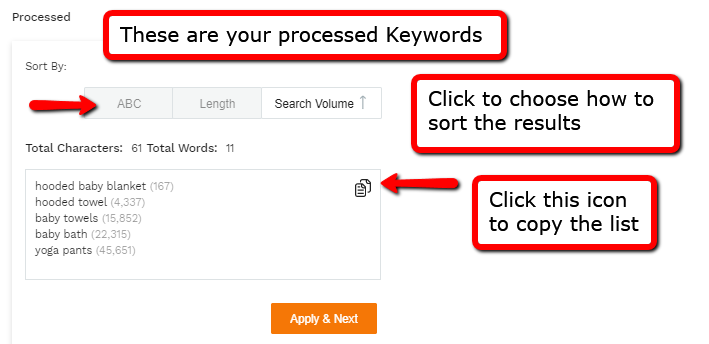 💡The numbers in parentheses represent the search volume for that keyword
Next, you'll see the Content Creator. Here's where you'll be able to start creating/optimizing your listing.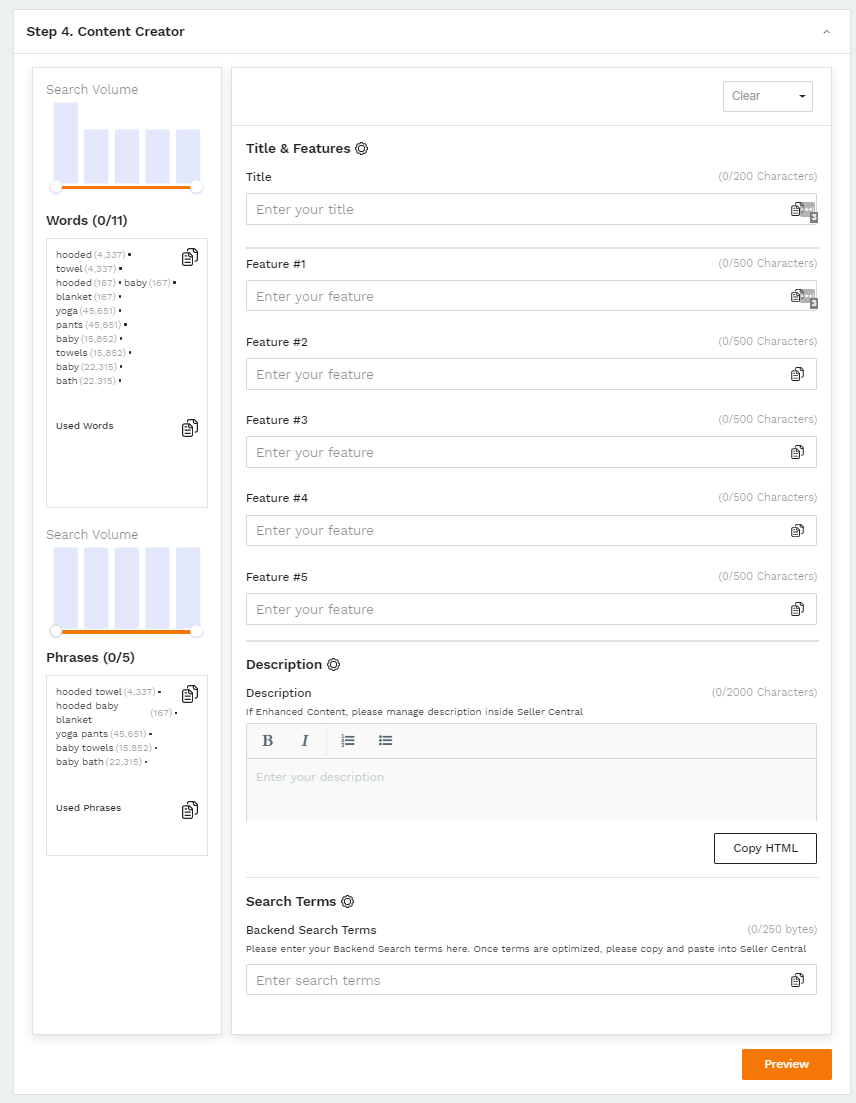 Using the Content Creator
The Content Creator lets you edit your listing (or build it from scratch) by focusing on specific criteria and giving you recommendations based on the Listing Optimization Score. This option lets you analyze your listing and gives you a score out of 100 points. You'll see the score and dial chart changing as you edit your listing in the Listing Builder.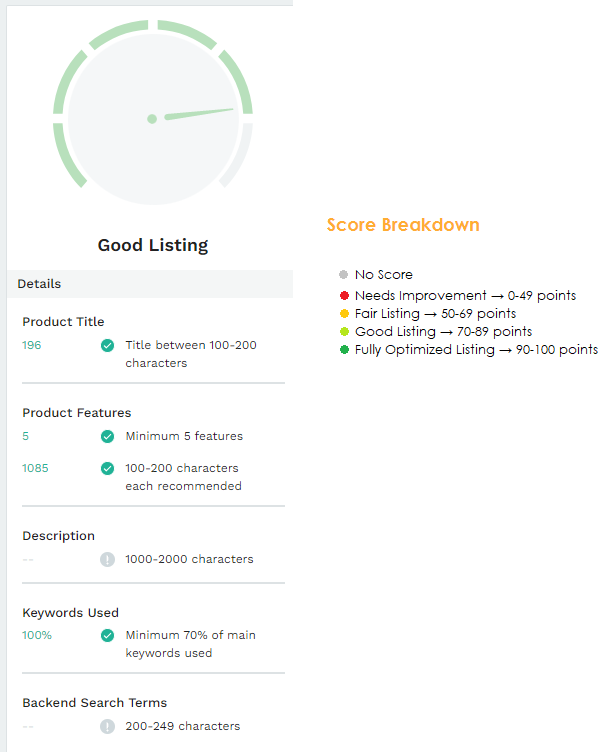 The Listing Optimization Score dial chart is displayed on the left of the actual content creator. Every time you edit one of the fields you'll see those changes reflected on the chart.

The LOS is based on the following criteria: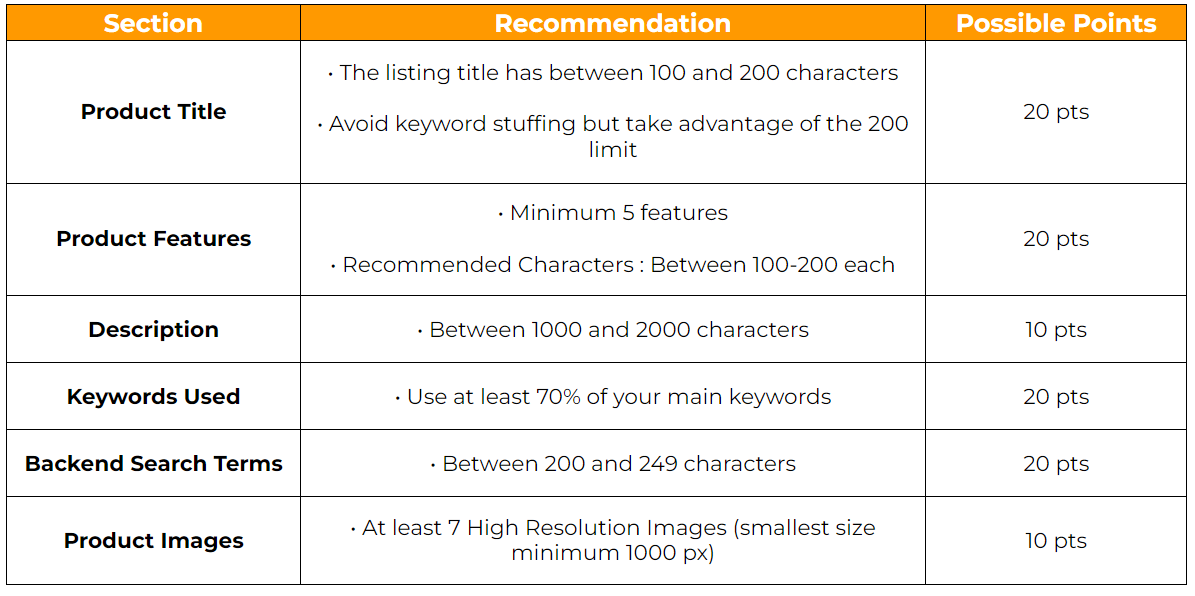 In order to build your listing or optimize it, simply follow the recommendations for each category and edit each field accordingly.
Once you've finished editing every field, just click the preview button to review your final listing.
Finally, make sure you click the Save As button on the top, right-hand corner to save your listing. You can save your copy as either a draft or in "Ready to Publish" status.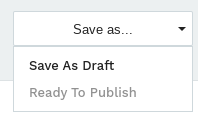 💡 The Ready To Publish option will be enabled only if you've made edits to the title, features, description, and backend search terms. Otherwise, you'll need to use the Save As Draft option. Also, note that this will only change the status of your listing, it won't effectively publish these changes to Amazon (you can learn how to do this in our 📖 Listing Builder → Publishing your Optimized Listing to Amazon).
Once you've saved your changes, you can come back and keep editing and optimizing your listing whenever you need to. You can see the status of your listings from the main screen: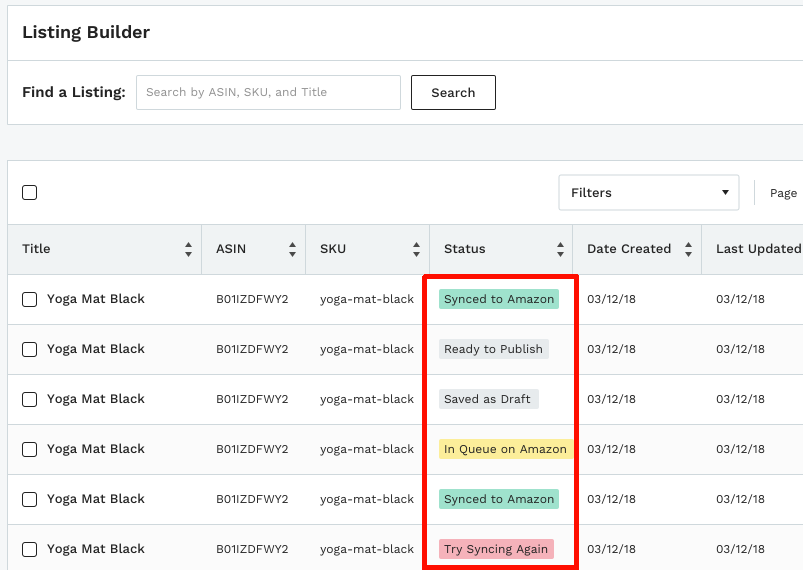 You can also select all or some of your listings and export their details for safekeeping. Just enable the listing by checking the box on the left-hand side of the product name (or click the box on the top to select all) and click the Download icon: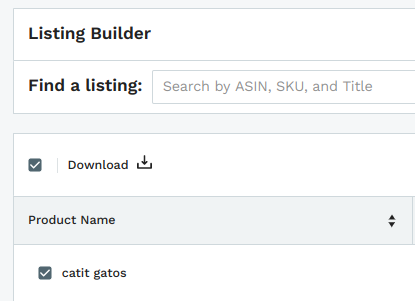 Make sure you read the 📖 Listing Builder → Understanding the Content Creator article to learn more about each customizable field.