Creating the perfect Amazon listing can be difficult, however, the Listing Builder can help you eliminate some of the guesswork and make this process simpler.
The Content Creator lets you edit your listing (or build it from scratch) by focusing on specific criteria and giving you recommendations based on the Listing Optimization Score. This option lets you analyze your listing and gives you a score out of 100 points. You'll see the score and dial chart changing as you edit your listing in the Listing Builder.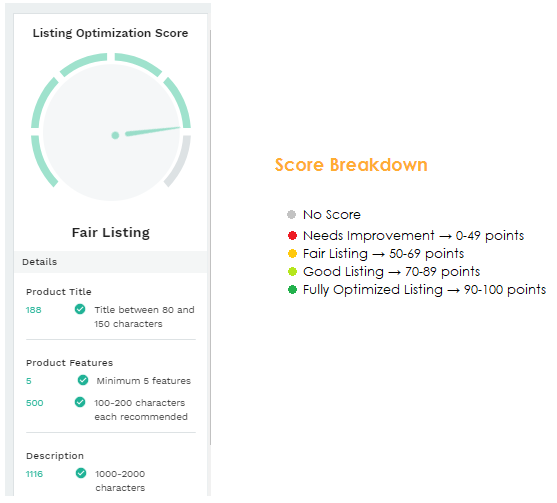 The Listing Optimization Score dial chart is displayed on the left of the actual content creator. Every time you edit one of the fields you'll see those changes reflected on the chart.
The LOS is based on the following criteria: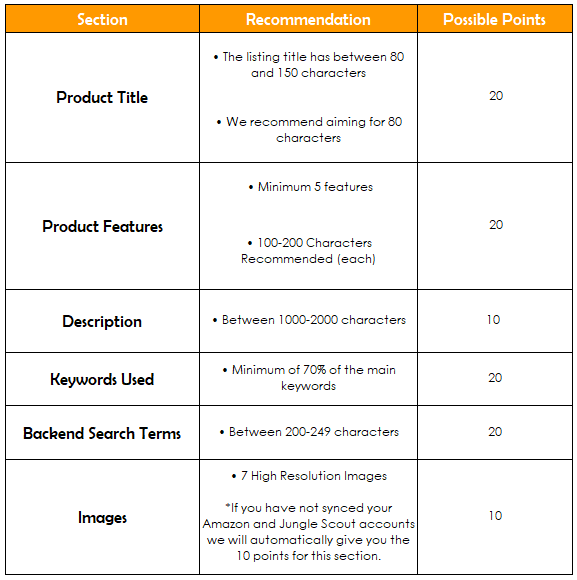 In order to build your listing or optimize it, simply follow the recommendations for each category and edit each field accordingly.

One of the first things to know when creating your listing is what each field means and how to best use them. Here's a brief explanation of each field's purpose and what information should be entered to maximize the effectiveness of your listing.
🔸Product Title:
This is the first thing your customers see (besides your main image) and is also most likely the first field that Amazon indexes when a customer performs a search. It is important to create a title that tells the customer what the product is while also including the top keywords you want to be indexed for.
🔸Features:
These fields are meant to highlight the features of your product that you want to express to your customer. They are shown as a bulleted list on your Amazon listing and should give the customer more information and specifics about your product. Use this space to highlight important qualities such as size, measurements, count, special features, and anything that sets it apart from the competition. Also, keep in mind to include relevant keywords you have not used yet.
🔸Description:
This is where you should describe the product in more detail. You have a limit of 2,000 characters so there is plenty of room to elaborate and give your customers some additional information. You can reiterate any details you mentioned under features as well as go into further details on the uses, makeup, features, options or anything else you think customers would want or need to know about your product.
💡 Keep in mind that we are not able to support descriptions for products that have enhanced brand content. Please select the checkbox if you have EBC and click on the link to manage this content directly from Seller Central.

🔸Backend Search Terms:
These are search terms that describe your product but they won't ever be visible in your listing to your customer. These search terms help Amazon decide which listings to show when a customer performs a search so it is important that you include relevant keywords to the product you are offering. You should not repeat words in this field, don't include any brand names or competitors ASINs either as these violate Amazon's TOS.
⚠️ If you are editing an existing listing that already has Backend Search Terms, the Listing Builder will replace them with the new ones.
🔸Images:
While you're allowed nine images, only seven will be shown when a customer lands on your listing initially. So you just need seven high-quality pictures. You want to create a sort of story that relays key information to your buyers. Besides your main image, consider including lifestyle photos or infographics. Make sure your images are compliant with Amazon's, Product Image Requirements.
Once you've finished editing every field, you can click the Preview button to review your final listing or the Save As button to save your listing in Draft or Ready To Publish status (this last option will be available only if you've made edits to the title, features, description, and backend search terms). Keep in mind that the Ready to publish option will only change the status of your listing, it won't push these changes to Amazon (you can learn how to do this in our 📖 Listing Builder → Publishing your Optimized Listing to Amazon).
If you need more help creating or optimizing your product listing(s) we recommend the following Amazon resources: