Creating the perfect Amazon listing can be difficult, but with the help of Listing Builder we are taking some of the guesswork out of it for you. 
One of the first things to know when creating your listing is what each of the fields mean and how to best use them. 
Here we will explain what each fields purpose is and what information should be entered to maximize the effectiveness of your listing. 
Title:

This is the first thing your customers see other than your main image and is also most likely the first field that Amazon indexes when a customer performs a search. It is important to create a title that tells the customer what the product is while also including the top keywords you want to be indexed for. 
Features: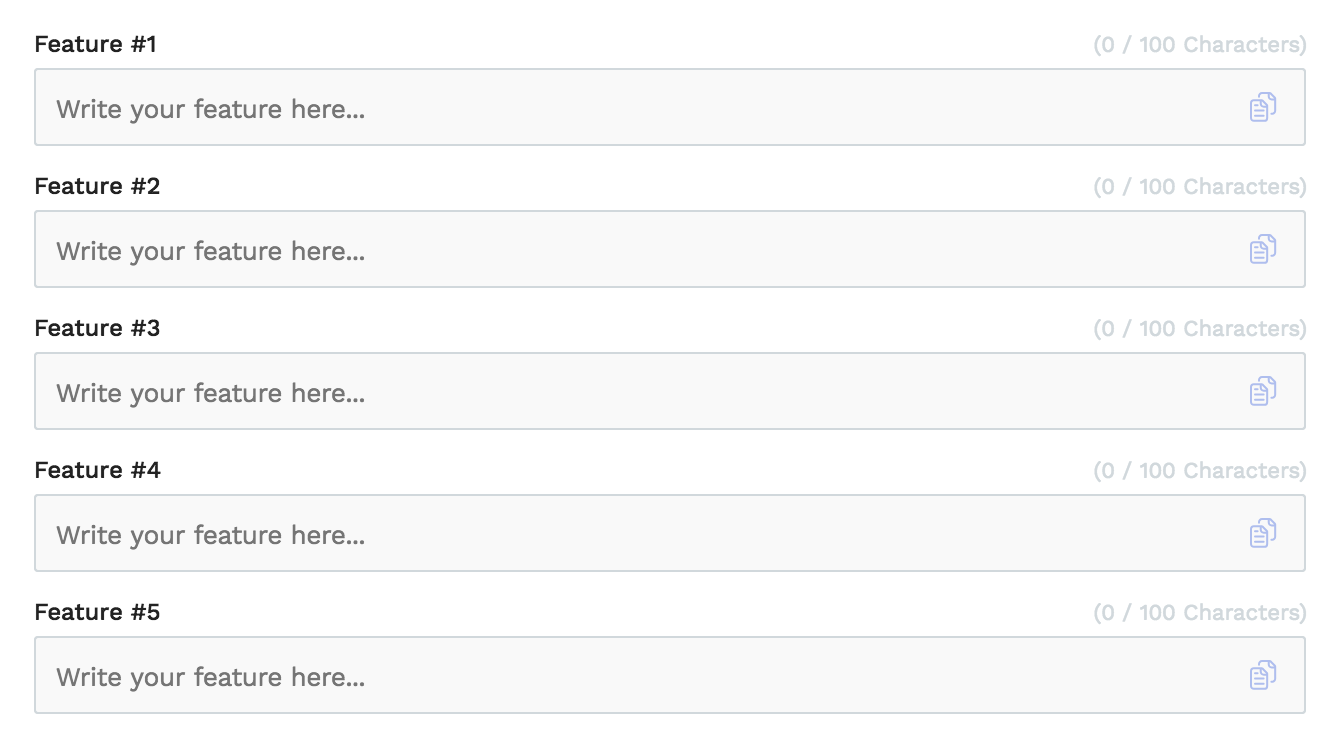 These fields are meant to highlight the features of your product you want to express to your customer. They are shown as a bulleted list on your Amazon listing and should give the customer more information and specifics about your product. Use this space to highlight important qualities such as size, measurements, count, special features, and anything that sets it apart from the competition. Also, keep in mind to include relevant keywords you have not used yet.
Description: 

This is where you should describe the product in more detail. You have 2,000 characters to use up here so there is plenty of room to elaborate and give your customers some great information.  You can reiterate any information from above as well as go into further details on the uses, makeup, features, options or anything else you think customers would want or need to know about your product. 
Backend Search Terms: 

These are search terms that describe your product but they won't ever be visible in your listing to your customer. These search terms help Amazon decide which listings to show when a customer performs a search so it is important that you include relevant keywords to the product you are offering. You should not repeat words in this field, don't include any brand names or competitors ASINs either as those are against Amazon's TOS. 
Target Audience: 

The Target Audience field should be filled in with demographic type terms that relate to who the product is intended for. For example, if it is a toy you may want to include "children, kids, babies, toddlers, etc..."
Intended Use: 

The Intended Use field should be filled in with use case type words. This would include any words pertaining to where, when or why the product would be used. For example, Jungle Stix would have an intended use of "campfires, cookouts, patio grill, bonfire, cooking, etc..."
Other Attributes: 

The Other Attributes field should be filled in with any additional attributes of your product that you have not already mentioned in one of the other fields. 
Subject Matter: 

The Subject Matter field is one that you should fill in towards the beginning of building your listing. Although not proven, this field is thought to hold a significant amount of weight in terms of indexing for your keywords. You should be including keywords that have a high search volume and relevancy to your listing in this field. Think of this field as telling Amazon what the product's subject is and what the product is about. If the product was a happy birthday banner you would want to include "party decorations, birthday signs, banner letters, etc..."
Once you have filled in all of the fields you are ready to create your listing in Seller Central on Amazon. For more information on how to do this check out this article: How to create your listing in Seller Central using Listing Builder