Once you sync your Amazon account, all your active products in Seller Central will become visible inside Jungle Scout. You can manage all your ASINs directly from the Product Costs & Settings option within the Manage Products menu.
You'll see an overview of all your products, including the ASIN and SKU information, Product Title, Variants, and Status. In this dashboard, you'll be able to enable/disable product alerts, re-fetch data, search for individual SKUs, add your costs and logistics information, and toggle products as visible/hidden.
Feature Overview
Product Search → You can search for products by entering the ASIN, SKU, or Product Title in the search field and clicking the magnifying glass:

Product Activation → Scroll to the right until you find the Visible in Jungle Scout column. The slider lets you toggle individual products from visible to hidden and vice versa. This comes in handy if you want to hide a specific ASIN from view, as it isn't possible to delete products from your account. Since we pull all information directly from your Seller Central account, Amazon simply sends data for all your items --we have no way of choosing which information gets transferred over.

By hiding products, those ASINs won't be available on the product drop-downs for promotions or features within the Sales Analytics option (however, even if you hide a product, associated sales and costs will still be included in company-level data)

Filter → You can filter the table and select which products you want to see, whether visible, hidden or both.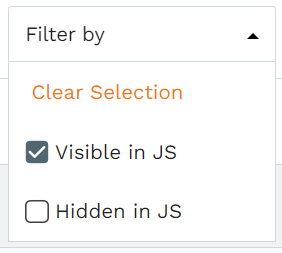 Product Variants → You can show/hide information for variants by clicking on the pull-down arrow next to your product, or by clicking the Expand Rows option:

Product Alerts → You can enable alerts for specific products by clicking on the bell icon:

📘 Alerts → Enabling Alerts for Specific Products
Download/Upload CSV → These options, let you request a CSV file via email with all your products (you can select to export data for all your products, or active or inactive ones only). This will let you enter your product costs in bulk and then import the edited CSV file directly into Jungle Scout.
📘 Product Costs & Settings → Adding your Product Cost in Bulk (Import/Export Feature)

Columns → As with most Jungle Scout features, you can click the table/gear icon to select which columns you want to see displayed on the table. You can also drag and drop columns from the list to arrange them to your liking. You can choose between the following options:



COGS Per Unit: Cost of labor and materials to produce your product. This is usually the price per unit on your invoice or purchase order.
Shipping Cost Per Unit: Cost of shipping your product from the production site.
Misc. Cost Per Unit: Optional Misc. cost for item prep, taxes or any other cost you would like to expense every time this item is sold.
Total Cost Per Unit: COGS Per Unit + Shipping Cost per Unit + Misc. Cost per Unit
Effective Date: The Effective Date corresponds to the date of a sale and will use the costs you entered for that date range.
Lead Time: The number of days between placing an order with a supplier and the product being received at Amazon. Product lead time should be entered in number of days. Enter the number of days between the time you first place an order until it is received and available for sale at Amazon. This includes production time, shipping time, transit time from the port to Amazon's warehouses and time for Amazon to receive your goods.
Reorder Days of Supply: The number of days worth of sales you want to reorder. This is used to calculate your reorder quality i.e. If you enter 90 days your reorder quantity will be your Average Daily Sales time 90.
Sync Status: The Status column will show you whether the product's information is out of sync with Amazon's data, being updated, up to date or if there's a connectivity issue.
Last Sync Status: This is the last time the product information was updated from Amazon.
Visible in Jungle Scout: Making products visible will include product details in Promotions and Sales Analytics calculations.
Review Automation Schedule: This shows you your current send time for Review Automation.

To add/edit your product costs and/or logistics information, click on the View button or anywhere on the product line once you hover over it.

This will open a side panel where you'll be able to edit/add the product's details: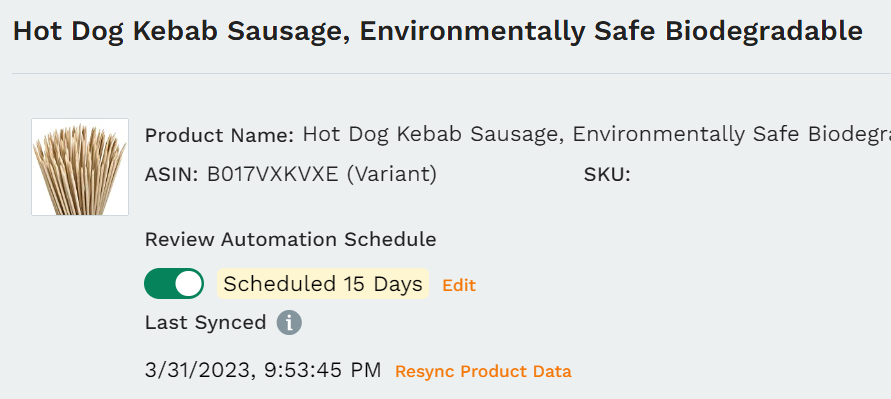 For more information on how to go about this, please go over the 📘 Product Costs & Settings → Entering your Cost of Goods (COGs) & Logistics Information