💡 If you'd rather use our "set it and forget it" tool to save time and never miss an opportunity to earn a review, don't forget to check out Review Automation → our Amazon ToS approved solution!
The appearance of the Request Review button(s) will change based on the status (and type) of your orders and the current state of your request.
The first thing to keep in mind is that you can only use this feature to request reviews for FBA orders within 4 and 30 days old. You won't be able to request a review for any of the following orders:
Any FBA orders between 1-3 days
Any FBA orders past 30 days
FBM orders
Orders connected to Shopify (US marketplace)
Manual fulfillment orders made in Seller Central
Any orders labeled as Sales Channel: Non-Amazon.
Any orders that fall under the previous categories will have a grayed-out button with the text Review Ineligible:

So, select a date range for orders between 4 and 30 days to filter your orders and choose whether you want to send a request for all orders on the page or individual ones. You can request 100 new reviews at a time.
Requesting Reviews for Individual Orders
After filtering your orders by date, simply scroll down through the list and click on each Request Review button. You'll see that the button then changes to Sending Request → Review Sent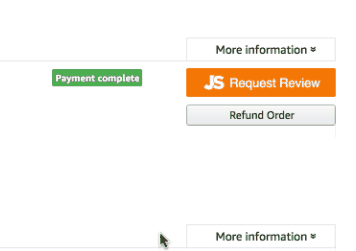 Requesting Reviews in Bulk
If you'd rather send your requests in bulk, just click on the Request Reviews on This Page button after filtering the orders by date.
The tool will begin processing your request and the text will change to Fetching Orders. It can take a while to process your request depending on the number of orders, (e.g. depending on your connection it may take 5 minutes to process 200 orders) so you might see this message for a bit. Once this step is complete you'll see a tally of the number of emails that have been sent from the total number of orders (e.g. Requesting Reviews 7 of 53).
After all requests have been sent, you'll see all the Request Reviews on This Page button change to Finished Requesting Reviews and the individual Request Review buttons. will be grayed out and the text will change to Review Sent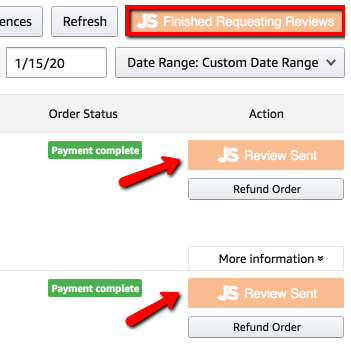 ⚠️ Important!
Please be aware that the Bulk Request Reviews and Review Automation features are mutually exclusive. This means that, if you have manually requested reviews using the first option, those requests won't be included in the Review Automation stats, as it is not possible to send multiple review requests for the same order. Likewise, if you have enabled Review Automation, you won't see the Request Review option inside Seller Central. If you prefer to use the Bulk Review Requests, you can disable Review Automation; however, we recommend the latter since it completely automates the review request process for you.
---
💡 If you want more information on the Bulk Review Feature, check out these articles:
📖 Bulk Request Reviews → Feature Overview