Team members on a multi-user-account subscription can share groups, preset filters, and lists with other members or keep that information private.
This feature is available on the following Jungle Scout features:
Product Database
Opportunity Finder
Keyword Scout/Lists
Rank Tracker
The default status for every new group, preset, or filter you create is private unless you share them with your Team.
💡 Account Owners can still see all of the Team members' account data, even if you choose to keep this info private. Members with shared access can only see their data and any group, preset, or filters shared by the Account Owner and other Team members.
Changing your Sharing Settings
Whenever you save filters or create a group or a list in one of the supported features, you'll see a toggle that allows you to share that information with your Team. Move the slider to the right to enable this option.

Product Database & Opportunity Finder
Choose your desired criteria
Click the Save Filter Button
Add a name, toggle the Share with my team button on or off
Click Save Preset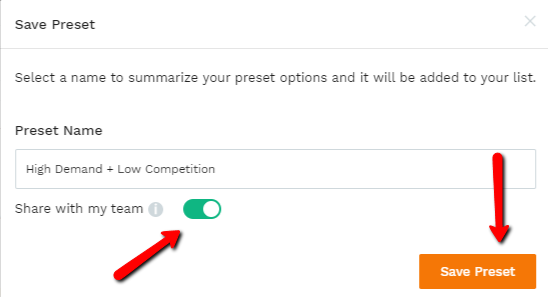 Keyword Scout/Lists
Enter your desired keywords and run a search
Tick the boxes to make your selection
Click the + sign to create a new list
Add a name and toggle the Share with my team button on or off
Click the Add & Create link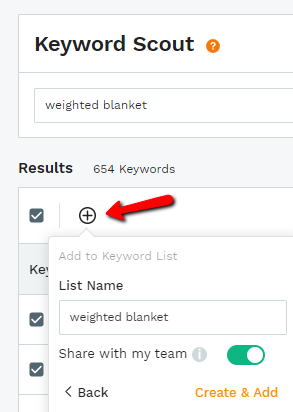 If you have existing filters, lists, or groups that you'd like to change to private, you'll need to recreate them to adjust the visibility. Currently, there is no option to edit those settings for existing presets.
You can tell if a group is private or shared by the identifying icon: