If you are having trouble setting up the Bulk Request Review feature, we have a few recommendations to help you get it up and running.
1️⃣ First, make sure that you are running the latest version of Extension (just go to chrome://extensions and look for an Update button for the Jungle Scout Extension --if you don't see one, you have the most recent version).
2️⃣ Next, check that you have enabled Chrome notifications (otherwise the pop-up will be blocked and you won't be able to proceed). If you need instructions on how to do this, click here
Once you turn on those notifications, you'll get the following pop-ups: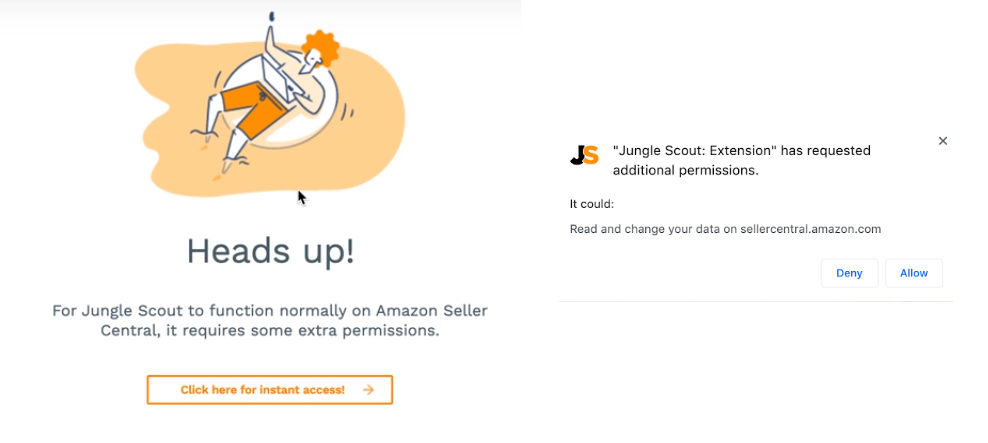 This will grant Jungle Scout permission to write on Seller Central, however, we won't write or edit anything! This step is simply necessary to give permission for the Extension to run on your Seller Central account.
3️⃣ If you have confirmed you have the latest version of Extension and that Chrome notifications are turned on and you still can't activate this feature, you can run through a reinstallation of the extension. For a full set of instructions make sure you read our 📖 Installing, Uninstalling or Reinstalling Extension article.
4️⃣ Finally, extension interference could also prevent you from running the tool successfully. You can check if this is the case by following these steps:
Enter chrome://extensions into your Chrome search/address bar
Disable all extensions (just move the slider button to the left) except for Jungle Scout
Exit & Restart Google Chrome
Run your Extension again
If everything works it means there is another extension interfering with Jungle Scout. You'll need to enable the extensions one by one, and then try to use Jungle Scout o figure out which one is interfering. If Jungle Scout no longer works, you'll have found the extension causing the issue.
Hopefully, one of these steps will help to get your extension up and running and it will allow you to enable the Bulk Request Review feature. However, if you are still unable to get things to work, please get in touch with our Customer Support team.
---
💡 If you want more information on the Bulk Review Feature, check out these articles:
📖 Bulk Request Reviews → Feature Overview