We've previously covered the Listing Builder Features and how to best utilize the Content Creator. Now we'll go over how to publish your listing changes to Amazon.
💡 Keep in mind that you need to connect your Seller Central account in order to optimize and publish a listing. You can read our Adding and Syncing your Amazon Seller Central & Jungle Scout Accounts article if you need help on how to complete this step.
In addition, as we've mentioned in previous articles, we are not able to support descriptions for products that have enhanced brand content. If you select the checkbox confirming you have EBC, the description won't be pushed to Amazon. You'll have to manage this content directly from Seller Central as we cannot override enhanced brand content.
Also, note that the Handmade Category is not supported. While you can work on a listing for an ASIN in this category and even seemingly publish your changes to Amazon, this won't be reflected on your Seller Central account.
Once you are satisfied with your listing, you can publish those changes directly to Amazon. If you've previously saved your listing, simply click on the edit button to go back to the Content Creator:

To publish your listing simply click the Sync to Amazon button and confirm your choice by clicking Continue: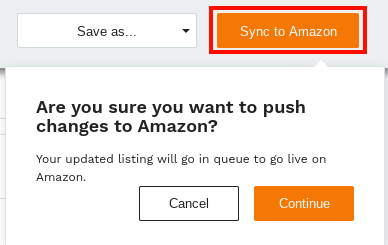 💡 Please note that if the "Sync to Amazon" button is greyed out, it means that on Step 1, you chose "Draft a listing" instead of the "Optimize Existing Listing" option. Since there is no way to sync listings in draft status, you'll have to go back to Step 1, change the option to "Optimize Existing Listing", and then proceed with the listing creation and sync.
You should see a success confirmation message. Just click Finish to complete the process: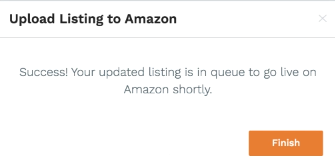 We will send the update to Amazon where it will be placed in the queue. You can check the status of your listing from the main view of the Listing Builder:


💡 Please note that, even when Amazon confirms that the request went through successfully and you can see those changes reflected in Seller Central, it could take a while for the update to be visible on the live listing on the marketplace (up to several hours). Unfortunately, we have no control over this and we don't get any additional notifications of when those live updates take place. In other words, if you see your updated listing in Seller Central it means that the update did go through (you should also receive a success email confirming this), but it is up to Amazon to update the live listing.
In the rare event that your listing is not updated, it might be worthwhile tweaking your title to ensure it is 100% compliant with their guidelines. Amazon tends to be quite strict when it comes to listing titles.