If you are on a Suite or Professional plan, you can purchase extra seats to add more users to your subscription.
You can check the status of any seats & sub-users in your account from the Settings panel under Subscriptions:

Seat Total: This is the number of current seats in your plan (includes the default number of seats for your specific subscription + any additional seats you've purchased).
You can also see the number of seats included with the subscription and the price for each additional seat.

Seats Available: The number of available seats to invite additional users
Seats Used: The total number of seats used in your plan (this tallies every user, including the account owner
Purchasing Seats
If you want additional seats, click on the Edit Seats button.
You'll see the current number of seats and the price for each additional one. Use the arrows next to the number field to select your new total. You must stay above the number of currently active seats in your plan. For instance, if you have 6 seats and want to add 2 more, adjust the number to 8.
Next, you'll see your subscription price information + the price adjustment for your purchase. This is a prorated fee based on the days left in your current billing cycle, and it will be charged upon confirming the transaction (you will receive a confirmation email with the payment details). You can also see the new price of your subscription, which is the amount you'll continue to pay from now on your normal renewal date.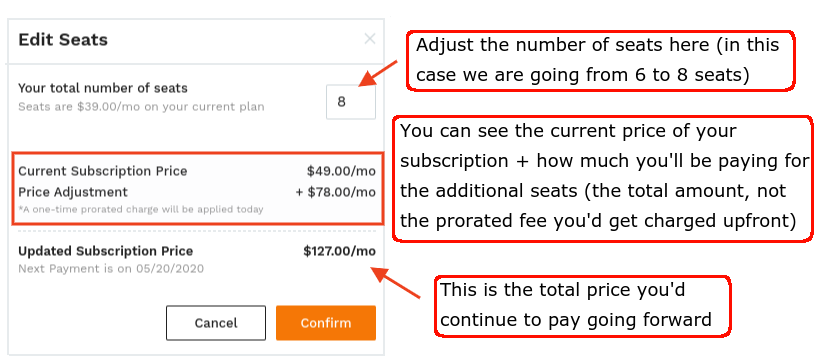 Once you confirm all the information is correct, click Confirm to proceed. If the transaction goes through, you'll see a Success! message in the top-right corner of the screen confirming the changes.

Once you've added a new seat, click Manage to invite additional users. For more information on how to do this, check out our 📖 User & Team Management Feature → Inviting new users article.
You can also create new teams and manage your members' access in the Team Management section. Here's an excellent article to help you set this up: 📖 User & Team Management Feature → Managing your Team settings