Jungle Scout automatically imports all of your Amazon sales and expense data, but to get an accurate view of your profitability, you'll need to enter your cost of goods and shipping expenses.
Use the Products Costs page to enter your Cost of Goods (COGs) and Supplier Shipping expenses. Product Costs is located under the Manage Products section on the left-hand navigation menu: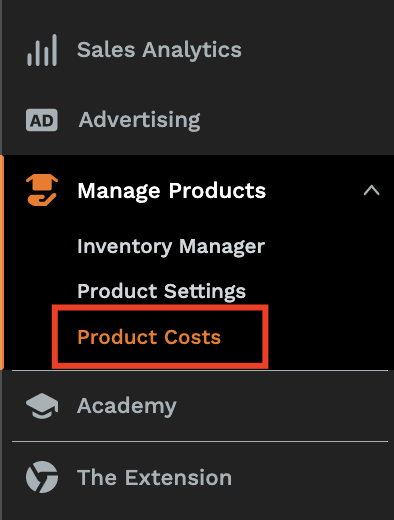 Each time you make a sale, we'll use the Total Cost Per Unit (along with order-related Amazon expenses we automatically record like fulfillment fees) to calculate your total costs for an order. The total costs are then subtracted from the sales price to show you your profit.
Cost of Goods: Cost of labor and materials to produce your product. This is usually the price per unit on your invoice or purchase order.
Supplier Shipping: Cost of shipping your product from the production site. This is also a per-unit cost so be sure to divide your total shipping by the number of units purchased.
Misc. Cost: Any other cost related to this item that you would like to be used in the cost calculation each time you make a sale.
💡 It's important that you add Cost of Goods and Supplier Shipping for every product you sell on Amazon. Misc. Cost is optional.
Manually Adding your Cost of Goods, Supplier Shipping or Misc. Costs
Navigate to the Product Costs page under the Manage Products section.
Find your product in the list or search by name, ASIN or SKU.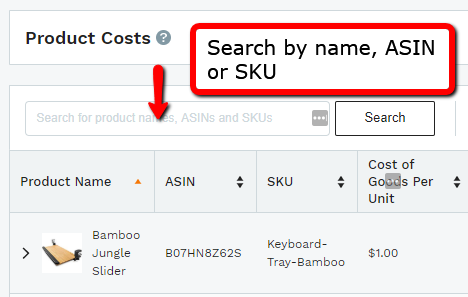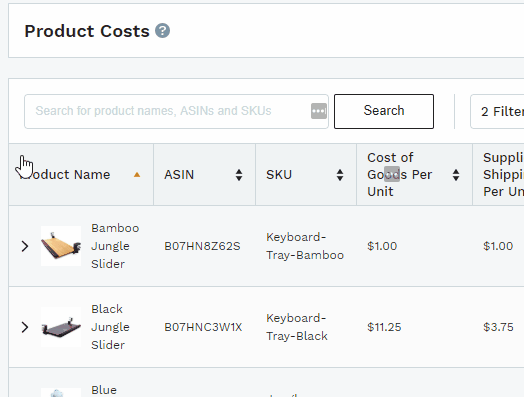 Enter your Effective Date → the date range that corresponds with the sale of your product and the associated cost to use in calculations.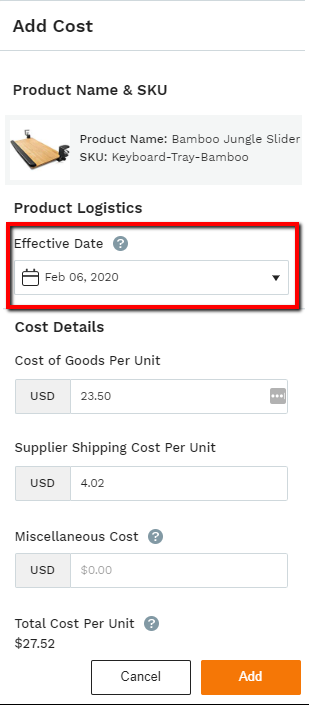 ⚠️You only need to enter an 'Effective From' date. 'Effective To' dates are automatically calculated based on the previous 'Effective From' dates. Units sold on or after the 'effective from' date will use the costs entered for that date range in calculations. We will use this cost up until the next effective date entry or indefinitely if there are no other effective dates entered.
Use the dropdown to choose a specific calendar date or to select 'Since Product Launch'. If you choose this option, the system will automatically go back and find the first recorded sale of the item and use the corresponding cost entered.
Next, enter your Cost Details: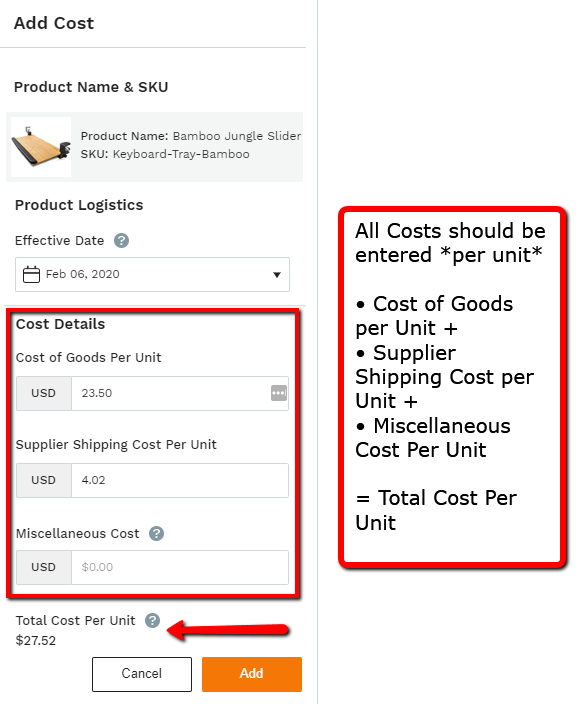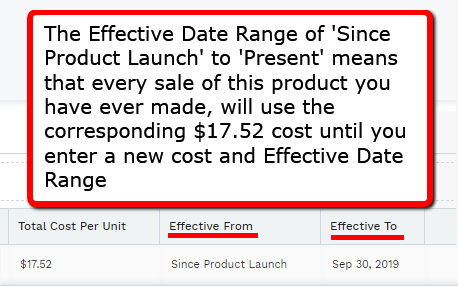 📖 For more information on using the "Effective Date" when your costs change, make sure you read our article on this topic, here!
Adding your Product Cost in Bulk → Import/Export Feature
The Download CSV and Upload Costs buttons allow you to request a CSV file via email with all your products (you can select to export data for all your products, or active or inactive ones only). This will let you enter your product costs in bulk and then import the edited CSV file directly into Jungle Scout.
First, click on the Filters drop-down menu and select which products you want to include in the file

Click the Download CSV button. You'll get a pop-up message confirming your Product Costs file is being generated and it will be delivered to the email address registered in your Jungle Scout account as soon as possible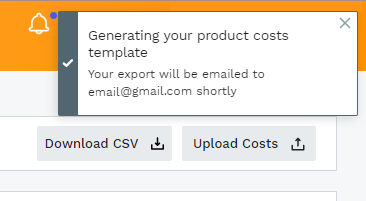 Now check your email for a message from Jungle Scout with the subject line "Your product costs export" message. It'll look like this: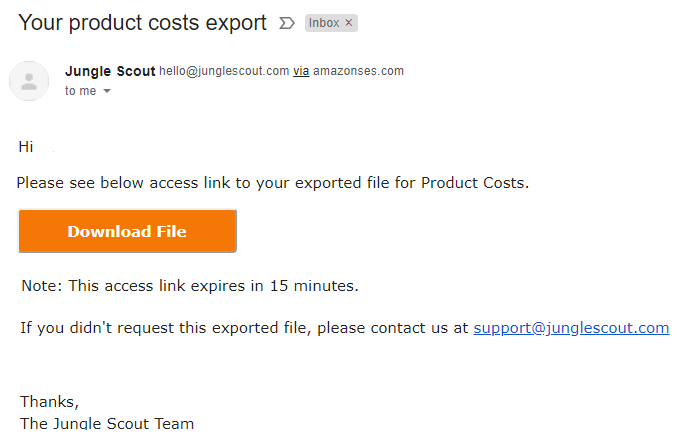 Clicking on that link will open the CSV file

Follow the instructions included in the file, enter the product's information under each column
Save the file in CSV format
Now, go back to Jungle Scout and click the Upload Costs button in the Product Costs screen

Find the CSV file in your computer to upload it