Jungle Scout automatically imports all of your Amazon sales and expense data, but to get an accurate view of your profitability, you'll need to enter your cost of goods and shipping expenses. 
Use the Products Costs page to enter your Cost of Goods (COGs) and Supplier Shipping expenses. Product Costs is located in the Product Settings section on the left-hand navigation menu: 
It's important that you add Cost of Goods and Supplier Shipping for every product you sell on Amazon. Misc. Cost is optional.
Each time you make a sale, the Total Cost Per Unit will be used, along with order related Amazon expenses we automatically record like fulfillment fees, to calculate your total costs for an order. The total costs are then subtracted from the sales price to show you your profit. 
Cost of Goods: Cost of labor and materials to produce your product. This is usually the price per unit on your invoice or purchase order. 
Supplier Shipping: Cost of shipping your product from the production site. This is also a per-unit cost so be sure to divide your total shipping by the number of units purchased. 
Misc. Cost: Any other cost related to this item that you would like to be used in the cost calculation each time you make a sale.  
How can I add Cost of Goods, Supplier Shipping or Misc. Costs? 
Navigate to the Product Costs page from the Product Settings section.
Find your product in the list or search by name, ASIN or SKU. 
Use the dropdown arrow next to your product to expand the record.
Click Add Cost to bring up the cost modal. (The ability to upload costs in bulk via a template is not currently available but will be added as a feature

very soon!

)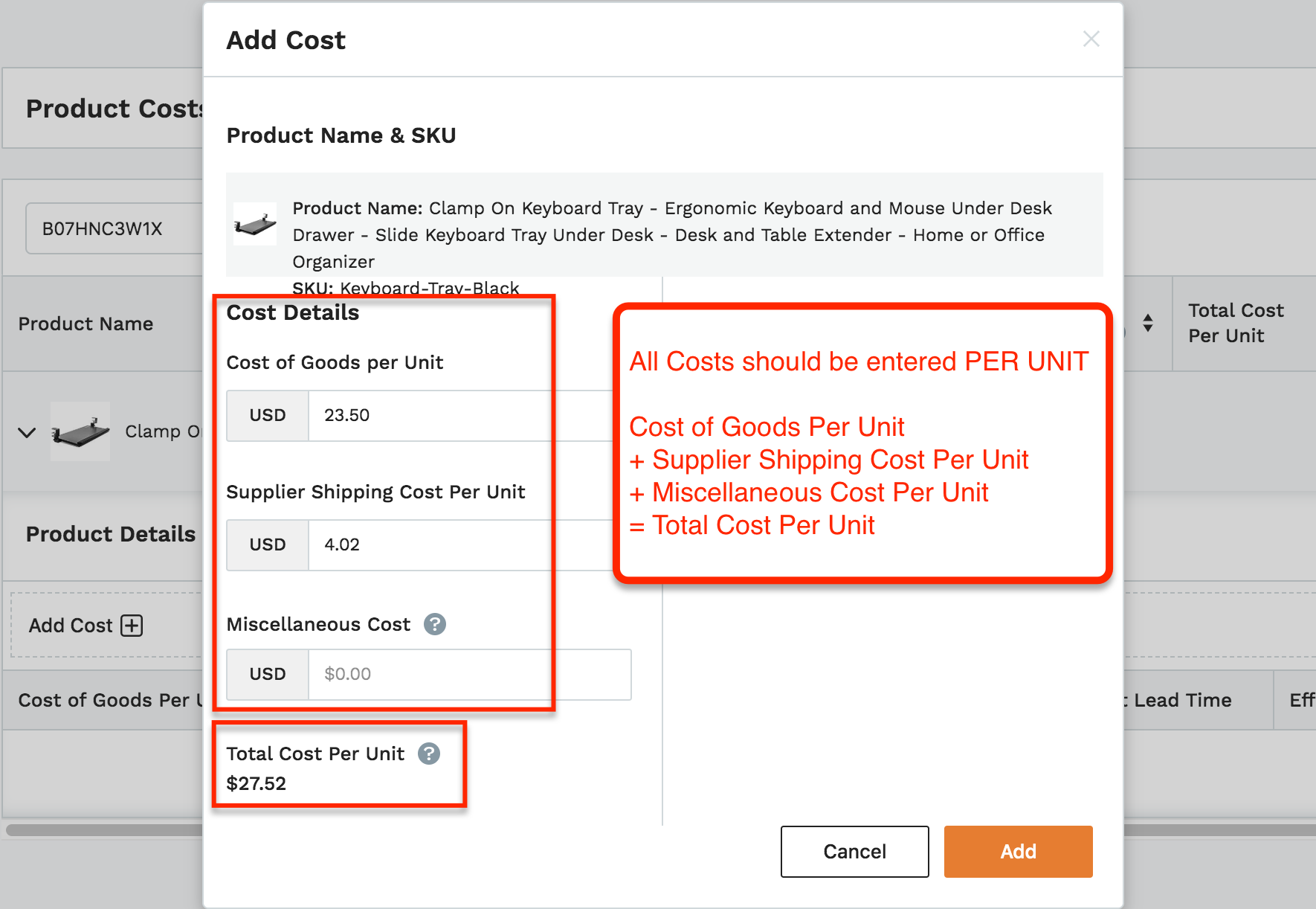 Next, enter your Effective Date → the date range that corresponds with the sale of your product and the associated cost to use in calculations.
⚠️You only need to enter an 'Effective From' date. 'Effective To' dates are automatically calculated based on the previous 'Effective From' dates. Units sold on or after the 'effective from' date will use the costs entered for that date range in calculations. We will use this cost up until the next effective date entry or indefinitely if there are no other effective dates entered. 
Use the dropdown arrow to choose a specific calendar date or to select 'Since Product Launch'. Since Product Launch will automatically go back and find the first recorded sale of the item and use the corresponding cost entered. 

Product Lead Time is an optional field. Product lead time should be entered in days. Enter the number of days between the time you first place an order until it is received and available for sale at Amazon. This includes production time, shipping time, transit time from the port to Amazon's warehouses and time for Amazon to receive your goods. 
As Jungle Scout adds more functionality, Lead Time will be used to help calculate inventory needs. Currently, functions that would use lead time are not available, so it is an optional input.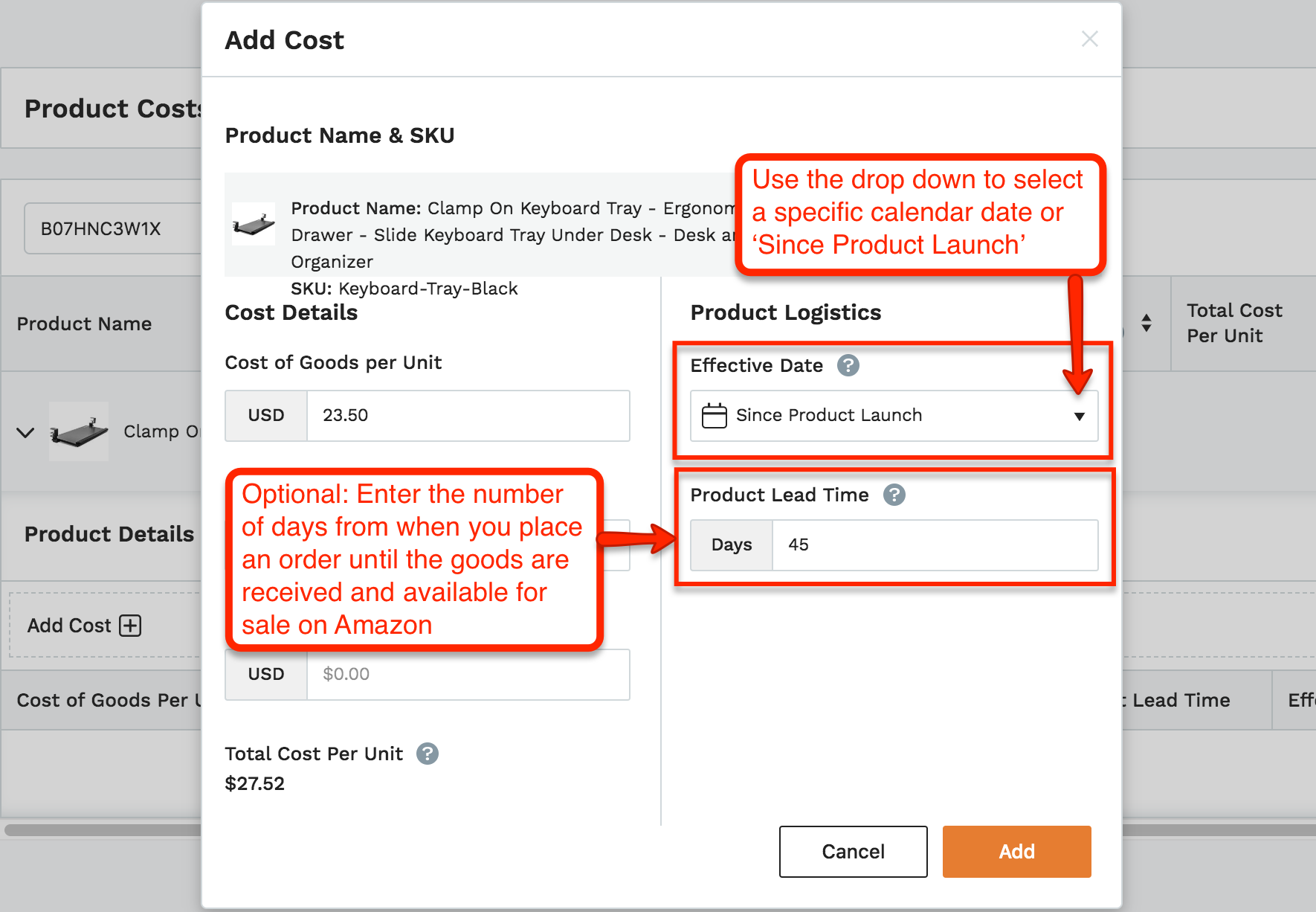 Using Effective Date When Your Costs Change
We know that your Cost of Goods and Supplier Shipping costs can change from order to order.  Use the Effective From date to assign different costs for each order when your costs change. The Effective Date corresponds to the date of a sale and will use the costs you entered for that date range.  You can enter as many different cost entries for an item as you would like as long as they each have a different effective date. 

To add a new cost and date range:
Expand the record for the item and use the 'Add Cost' button to bring up the cost modal. 

Enter your new costs of goods, supplier shipping, and any miscellaneous costs.

Choose a new Effective From' date using the drop-down calendar. This is the first date for a sale that you want to use this new cost for. When you add a new 'effective from' date the 'effective to' date for the previous date range will be automatically calculated.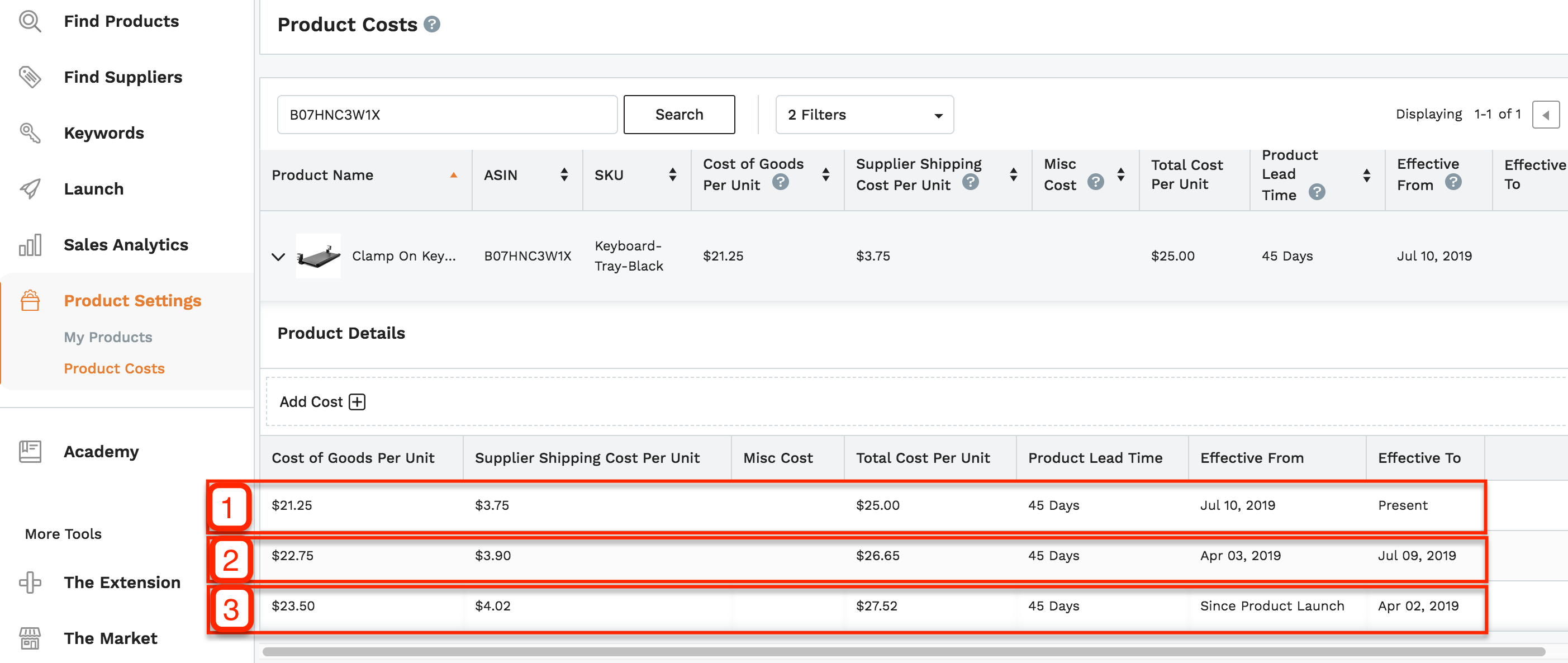 In the example above, there are 3 entries, each reflecting a different Total Cost and Effective Date.
For any sale made on or after July 10th 2019 (until you enter a new cost entry) we will use  $21.25 for COGs and $3.75 for Supplier Shipping which equals a Total Cost Per Unit of $25.00.
For any sale made between April 3rd, 2019 to July 9th, 2019 will use $22.75 for COGs and $3.90 for Supplier Shipping which equals a Total Cost Per Unit of $26.65.
From the first sale of this product to any sale up until April 2nd, 2019 we used $23.50 for COGs and $4.02 for Supplier Shipping which equals a Total Cost Per Unit of $27.52. 
The best way to add your Cost of Goods for new stock is to estimate when your current batch of inventory will run out and use the date when the new batch of inventory with the new costs will start to sell. The new COGs should be assigned to start when the current inventory runs out of stock.
Here's an example of how to determine what effective from date to use:
Let's say that Jungle Snugs has 100 units in stock for your first batch of inventory, and the COGs for this batch of inventory was $5.45mper unit with $0.76 in Supplier Shipping costs. This is what the Cost line should look like for the first/current batch of inventory: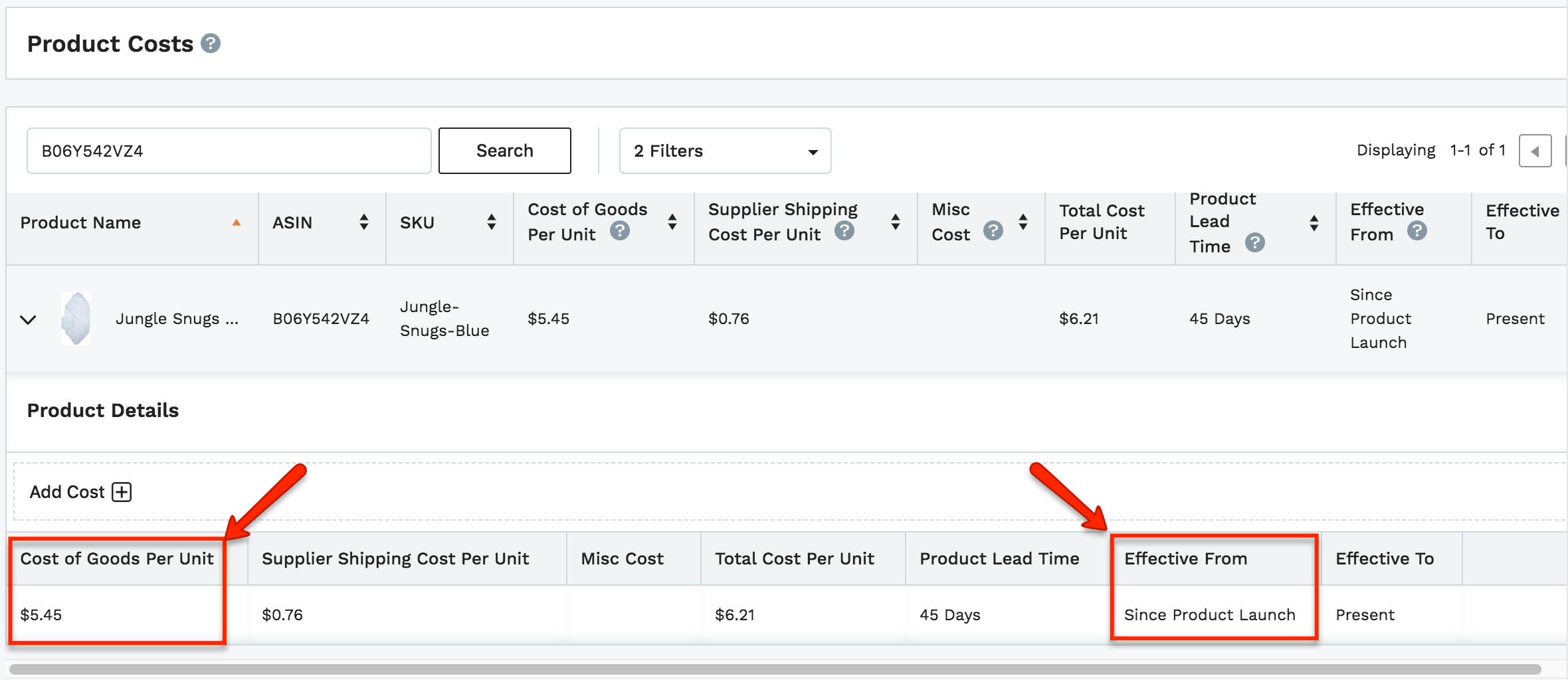 But, when it comes to the next order of Jungle Snugs - 1000 units already stored in Amazon - the new stock has a new Cost of Goods of $4.00 per unit and the same supplier shipping cost of $0.76 per unit.
This is where it can get tricky (but not really)...what date should Jungle Snugs use as the start date of the new $4.00 per unit COGs?
Well, if Jungle Snugs is currently selling 10 units per day on average, then the current stock of 100 units will run out in 10 days; 100 units currently in stock divided by 10 units sold/day = 10 days worth of stock available. And, assuming the date today is August 1st, that means the current 100 units of inventory will run out on August 10th.
So, Jungle Snugs' new $4.oo per unit COGs for the 1000 units of new inventory should start on August 11th, the day AFTER the current stock runs out. 
This is what the Cost line should look like for the new batch of inventory, in order for the $4.00 per unit to be calculated correctly: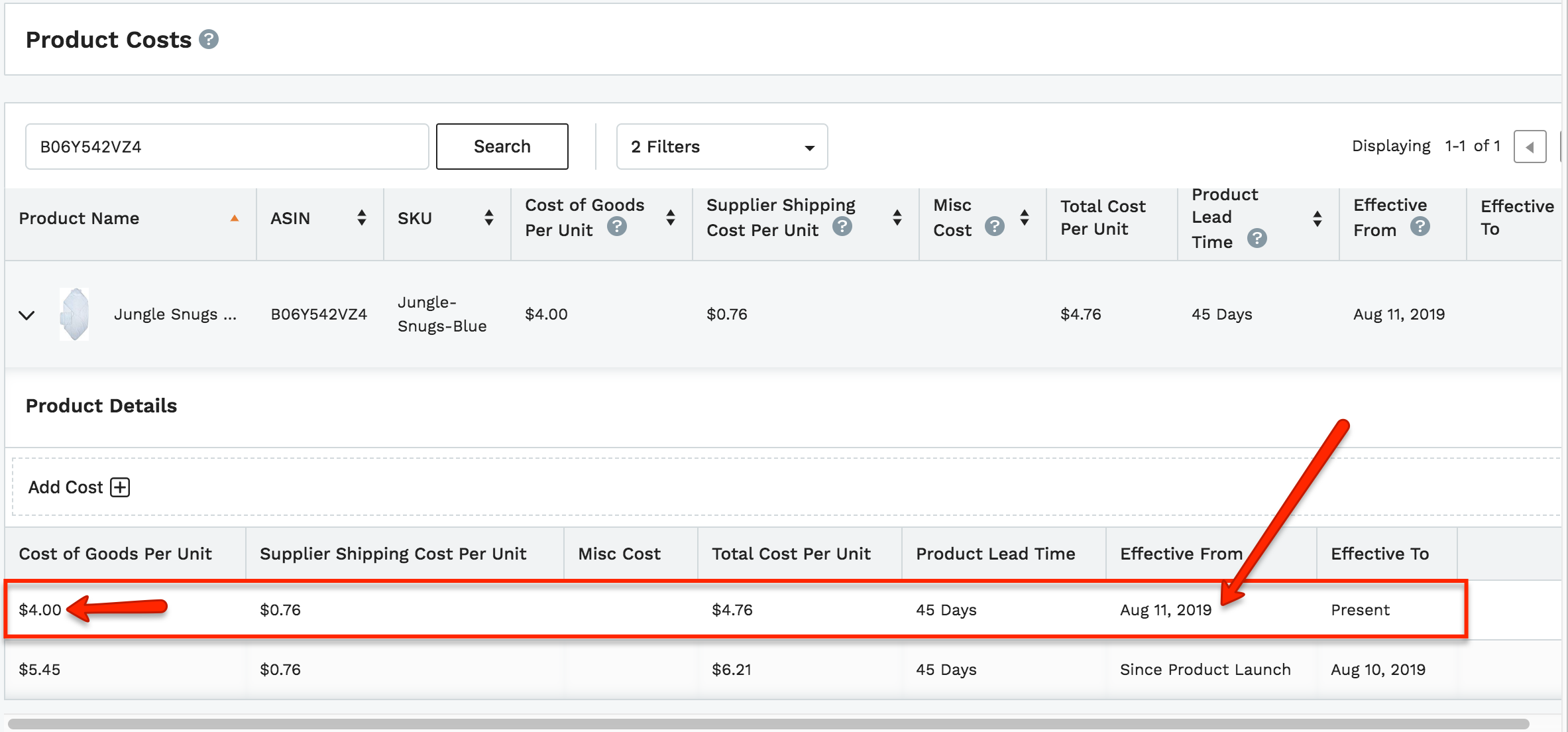 Now that you have entered all of your costs you can now see your true profits!
❓ Questions? We are always here to help! Please shoot us a message at support@junglescout.com or create a ticket by filling out this form.