Jungle Scout's Opportunity Finder helps you discover profitable niche product ideas with ease. You'll be able to search for high-demand and low-competition keywords to identify top niches on Amazon that fit your criteria using custom filters.
Opportunity Finder is the third option within the Product Research feature set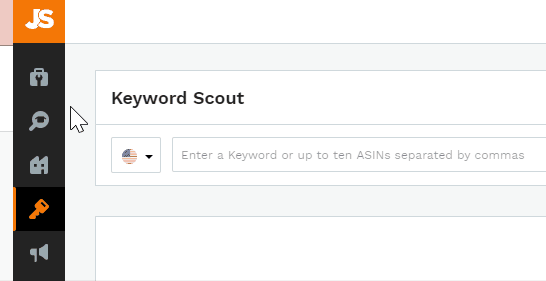 Supported Marketplaces
You can find a list of all supported Amazon stores by clicking on the marketplace dropdown. You will see different keyword data for each of these marketplaces so you can better target your customer base.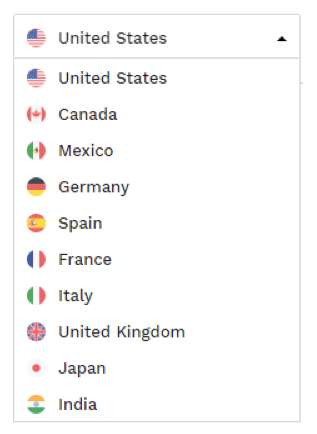 ⚠️ Please note that the Seasonality graph is not yet available for either the Mexican or Indian Marketplaces.
Using Opportunity Finder
Opportunity Finder helps you determine if you should pursue a specific niche based on the top 1 million user searches on Amazon each month.
You can use these data points to discover new niche product opportunities and then use Extension or the Product Tracker to validate these ideas.
Ready to get started? Just follow these steps!
From the left-hand navigation panel, click

Product Research

→

Opportunity Finder

Select your marketplace from the dropdown menu

Next, you can choose one or multiple categories (Opportunity Finder will search for niches in each of the parent categories you choose to include in your search results).
Now it's time to set your filters:
Average Monthly Units Sold: This lets you choose the average monthly units sold for listings in this niche
Average Monthly Price: Select the average sales price for listings in this niche
Monthly Search Volume: This represents the number of times this keyword has been searched in the last 30 days.
30/90 Search Volume Trend: This represents the search volume over the last 30/90 days compared to the prior time period.
Niche Score: The Niche Score is graded on a scale of 1-10 where 10 is the highest opportunity and 1 is the lowest. The score is calculated based on the demand, competition, and quality of the listings in this niche
Competition: This is based on keywords and the number of reviews. Aim for competition in the low to medium range
Seasonality: is based on how different the demand for a product is and if that spike in demand is cyclical
💡 You can also save your filters or load one of the preset filters we've created for you. For more information on saved and preset filters, please check out this article.
▷ To customize your filters, just enter the desired min and max values in the corresponding box or move the slider buttons accordingly. The left-hand button will move the slider towards higher numbers, while the button on the right-hand side of the bar will move the slider towards lower numbers.
▷ To find niches associated with specific keywords, enter those terms in the Include Keywords search box (separate keywords with commas). Likewise, if you'd rather omit niches associated with certain keywords from appearing in your results, just enter those terms in the Exclude Keywords search box (again, make sure you separate those keywords with commas).
▷ Lastly, you also have the option of preventing top brands from being displayed among your results. Just tick the Exclude Top Brands box to enable this.
5. Once you are done choosing your presets, click Search: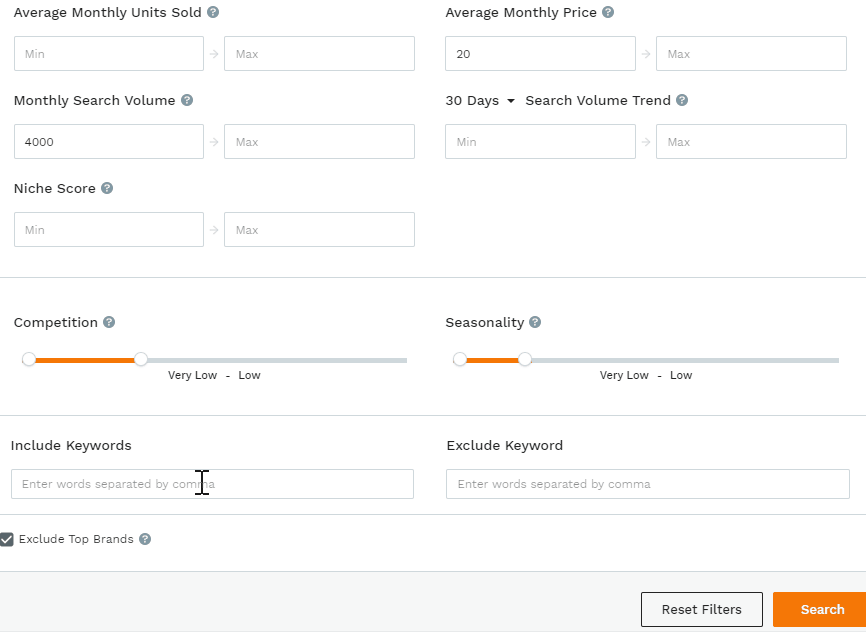 Now it's time to review your results to find profitable niche product ideas! You can sort any of the columns by ascending or descending order (just click on the column header to reorganize them).
By clicking on the pull-down arrow next to the niche, you'll be able to access the historical data graphs for each attribute. This information may help you get a better understanding of how well a niche has performed in the past.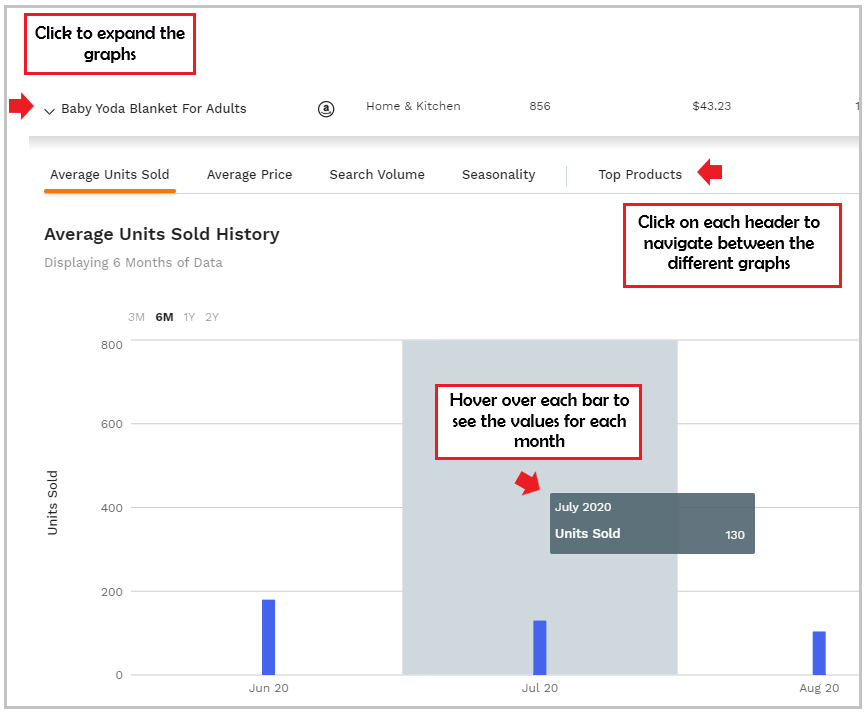 For Average Units Sold, Average Price and Search Volume, you can select the timeframe of the data they want to see:

⚠️ Keep in mind that, even though Opportunity Finder has the option to go as far back as 2 years, this is completely dependent on your specific membership limits. You can see a comparison of all plans, limits, and features on our pricing page.
You'll notice that, besides average units sold, average price, and search volume, you also have the ability to see Seasonality (not yet available for the Mexico or India stores):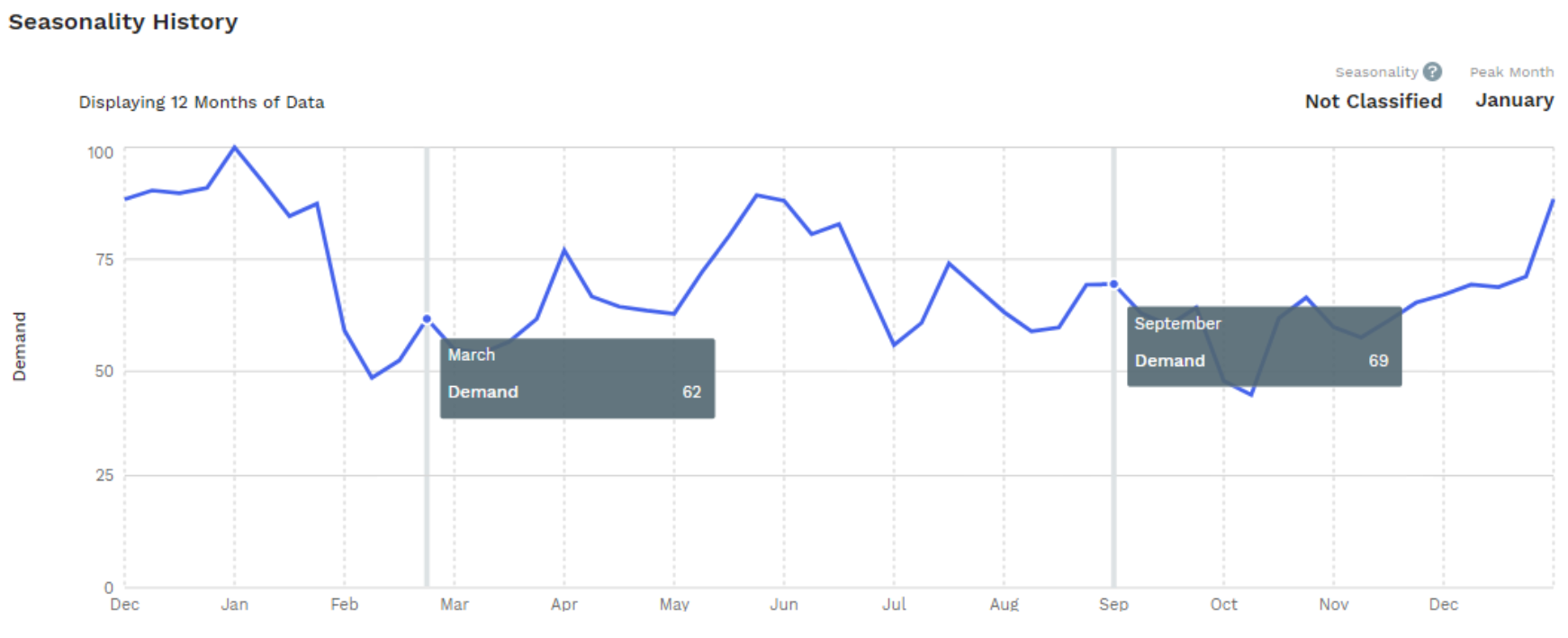 Low seasonality means a shorter peak during that season. Very high seasonality means a keyword's peak demand is much higher and lasts only a few weeks. Not Classified means we're still collecting data.
Seasonality is based on the last 1-2 years of the niche's sales. Note that the demand shown in this graph is not a one for one match for sales but a score out of 100 based on search volume for the niche (niche being one specific keyword/niche search term).
You can see a summary of the niche's seasonality on the right-hand side at the top of the chart:

Seasonality Tags: We are adding new tags and tooltips to help you get a better picture of niches that are trending (when there's a spike in search term volume appears to be a recent trend with no data to confirm it's seasonal) or that have seen a spike in sales due to COVID-19:


Top Products: This tab shows the Top products in each opportunity niche.

After analyzing the results in Opportunity Finder, you can explore the niche further by clicking the Amazon icon next to the niche name/keywords.

Then you can run the extension to see an overview of specific listings that make up the niche (the top products tab is, essentially, a faster way of doing this, but you can see additional product information using Extension).
Keep in mind that Opportunity Finder gives an overview of the whole niche based on the values of the listings that make it up, while Extension breaks down the attributes of each separate listing.