Keyword Scout is Jungle Scout's keyword research tool and it's included with all subscription plans. This is the most accurate and comprehensive Amazon keyword research tool on the market and it can help you...
Identify Keyword Volume → Know the exact and broad match search volumes for high-converting keywords
Get

direct insights

into which keywords your competitors are ranking for so you can add them to your own listings
PPC bids → Suggested bids for Amazon PPC
Estimates for ease to rank and recommended giveaways → Estimate how easily you can rank for the keyword and how many daily promotional giveaways are suggested to move to the top of the ranks.
Supported Marketplaces
Keyword Scout supports Amazon.com (US), Amazon.mx, Amazon.ca, all European Marketplaces → UK, Germany, Italy, Spain, and France plus Japan & India! You will see different keyword data for each of these marketplaces so you can better target your customer base.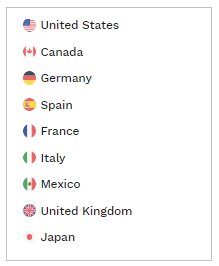 Using Keyword Scout
From the left-hand navigation panel, click Keywords → Keyword Scout

Choose your marketplace from the dropdown

Enter a keyword or ASIN in the search field (you can search for up to ten ASINs at once)

Click Search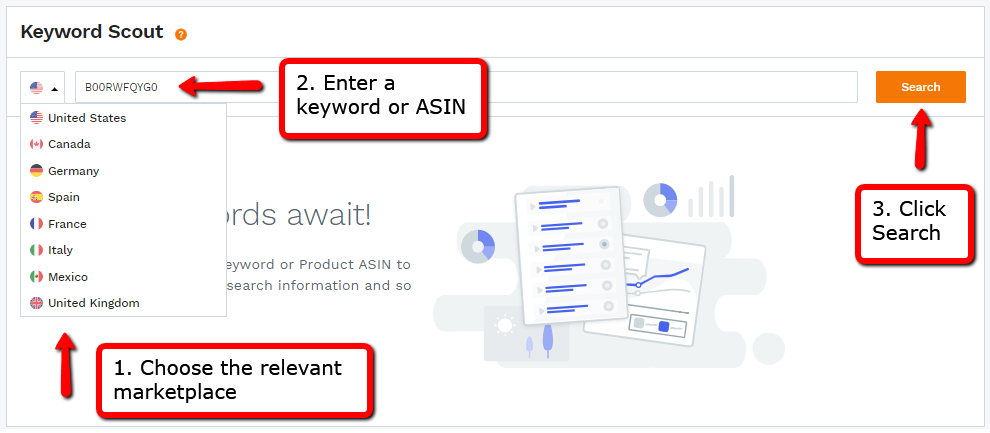 Click on the Filters dropdown menu and/or the Columns icon to customize these options and narrow down your search results. To set up your filters, enter a minimum and/or maximum value on the desired fields and click Apply.



To customize Columns, just enable/disable the options you want to see in your results. You can also select/deselect categories from within the Filter options).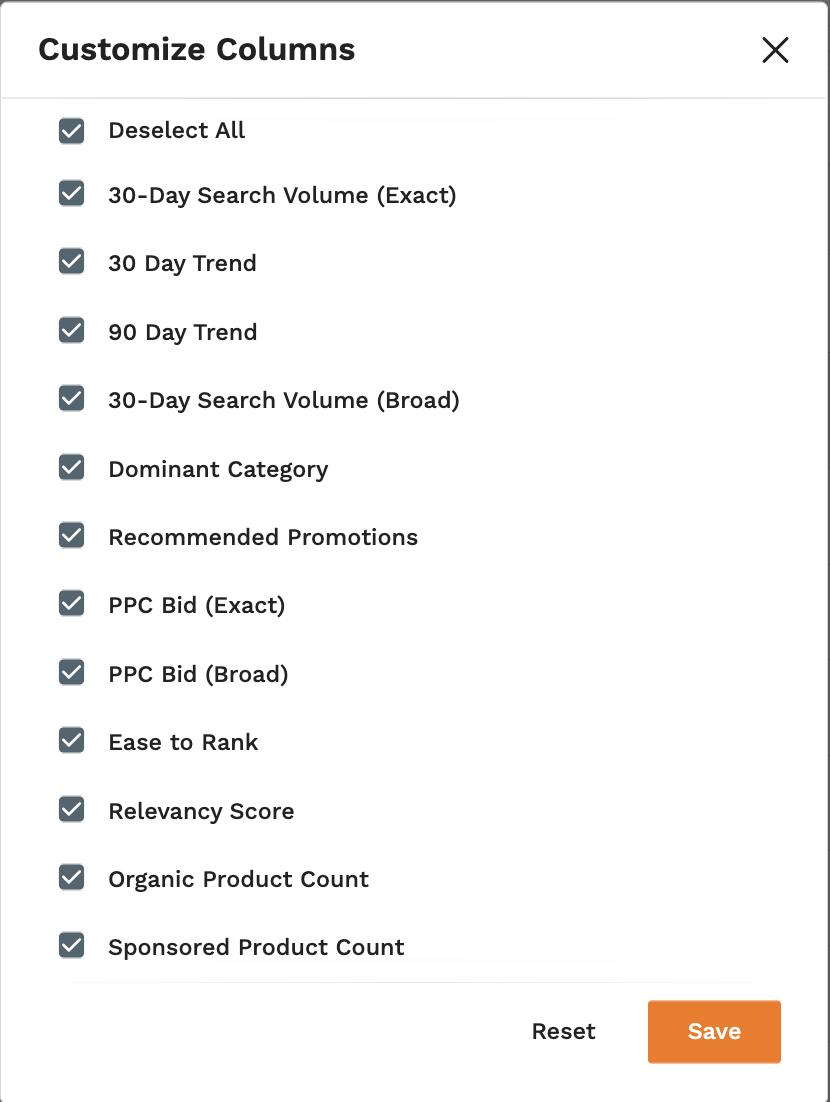 Filters
We offer both Basic & Advanced filters and you can use them to narrow down your results based on different criteria. Do keep in mind that, while the basic filters can be used for any type of search (Keyword, single or multi ASIN), advanced filters will be available only for Multi-ASIN searches as they show you a comparison between those products (the only exception is the Organic & Sponsored Product Rank).
Make sure you read the next article for an in-depth explanation of the Keyword Scout → Columns & Filters
Additional Features
Load filter set: You can save filter sets to reuse them. After setting up your preferences click the Save Filter button, give your preset a name and click the Save Preset button. You'll be able to access these filters by clicking on the Load Filter Set button.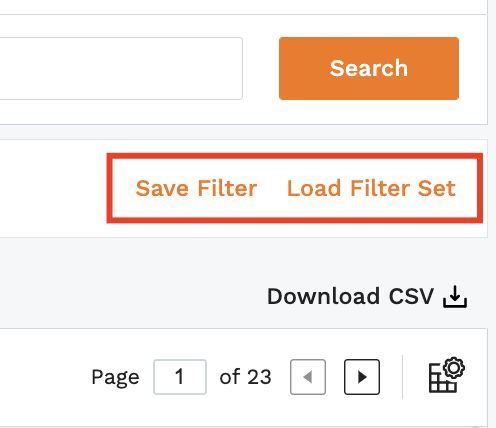 Search on Amazon: You can open your keyword search results directly on Amazon by clicking the Amazon icon next to the keyword:

Historical Search Volume: Analyze how keywords have performed in the past and see monthly and quarterly trend data. You can use this information to generate a full picture of a product's seasonality and popularity over time, adjust your PPC campaigns, and optimize your listings accordingly.
To see a keyword's historical search volume, hover over the specific keyword and click on it to expand that graph: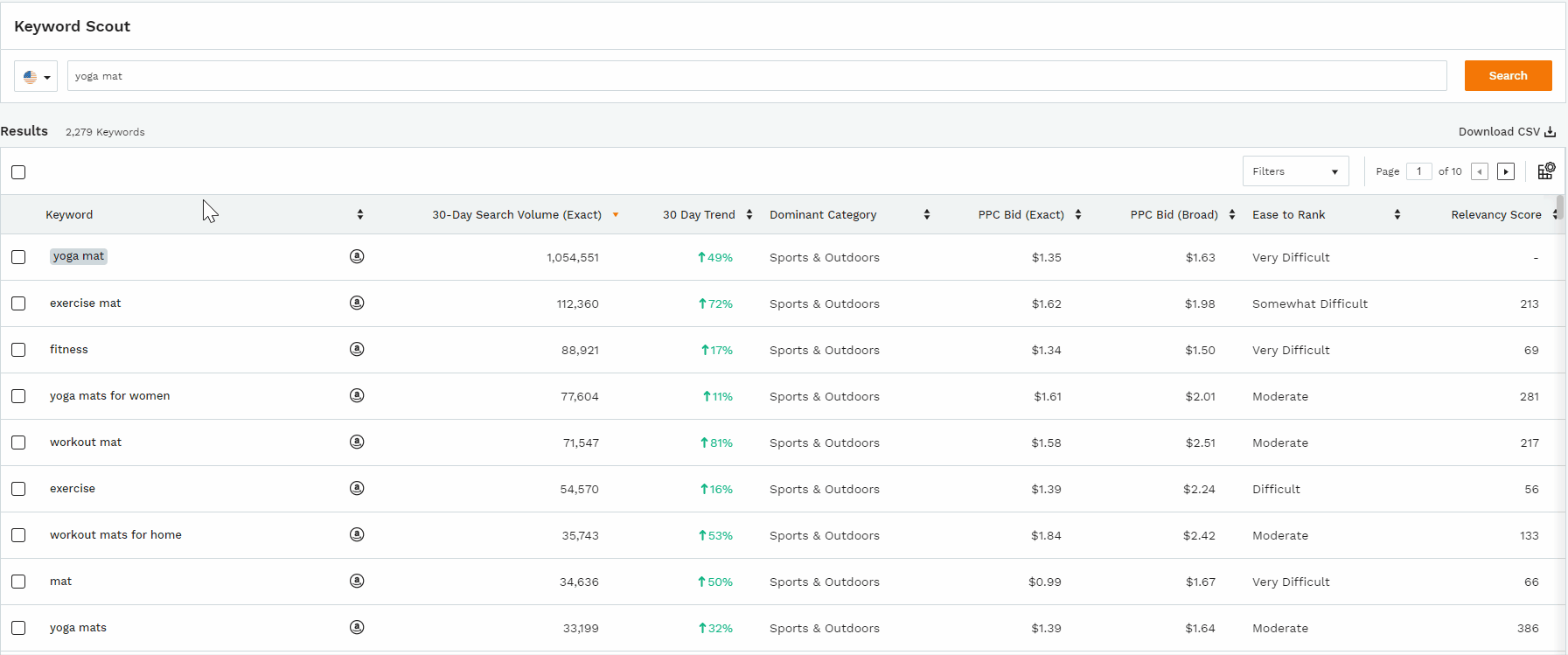 Keyword Lists: Create lists and/or add keywords to existing ones. Simply select the keyword(s) you'd like to include in your list and click the ⊕ Add Keyword to List button. You'll be able to select whether to add your keyword(s) to an existing list or create a new one. You'll be able to review and edit this information in the Keyword Lists section at any time.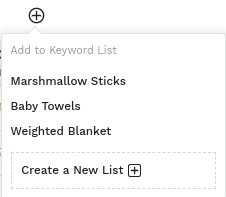 Export to CSV: You can export the resulting keywords as a CSV file. Just click the Download CSV file button.