The Listing Builder is a great new tool that will help you utilize your keywords and optimize their placement in your Amazon listing. Once you have gathered relevant keywords using Keyword Scout and saved them to My Lists you are ready to drop them into Listing Builder. 
Listing Builder outlines the fields that are most important to fill with your keywords. There are other attributes and fields that will need to be filled in when you make your listing in Seller Central such as Price, Images, Weight, and Dimensions. 
From Listing Builder you will first need to create a new listing by selecting the option from the top right. 
Next, you will choose the keyword list that corresponds with the listing you wish to build.  
We recommend you already have a keyword list stored in My Lists but if not, you have the option to create one now by choosing the Create a New List button. Choosing this option will take you to the My Lists section where you can import your own keyword list, find keywords using Keyword Scout or a combination of the two. You will need a keyword list to be able to fully utilize Listing Builder. 
Now that you have your keyword list selected choose Next to start building your listing. 
You will now see your keyword list on the left and the Content Creator pane where we will input these keywords on the right.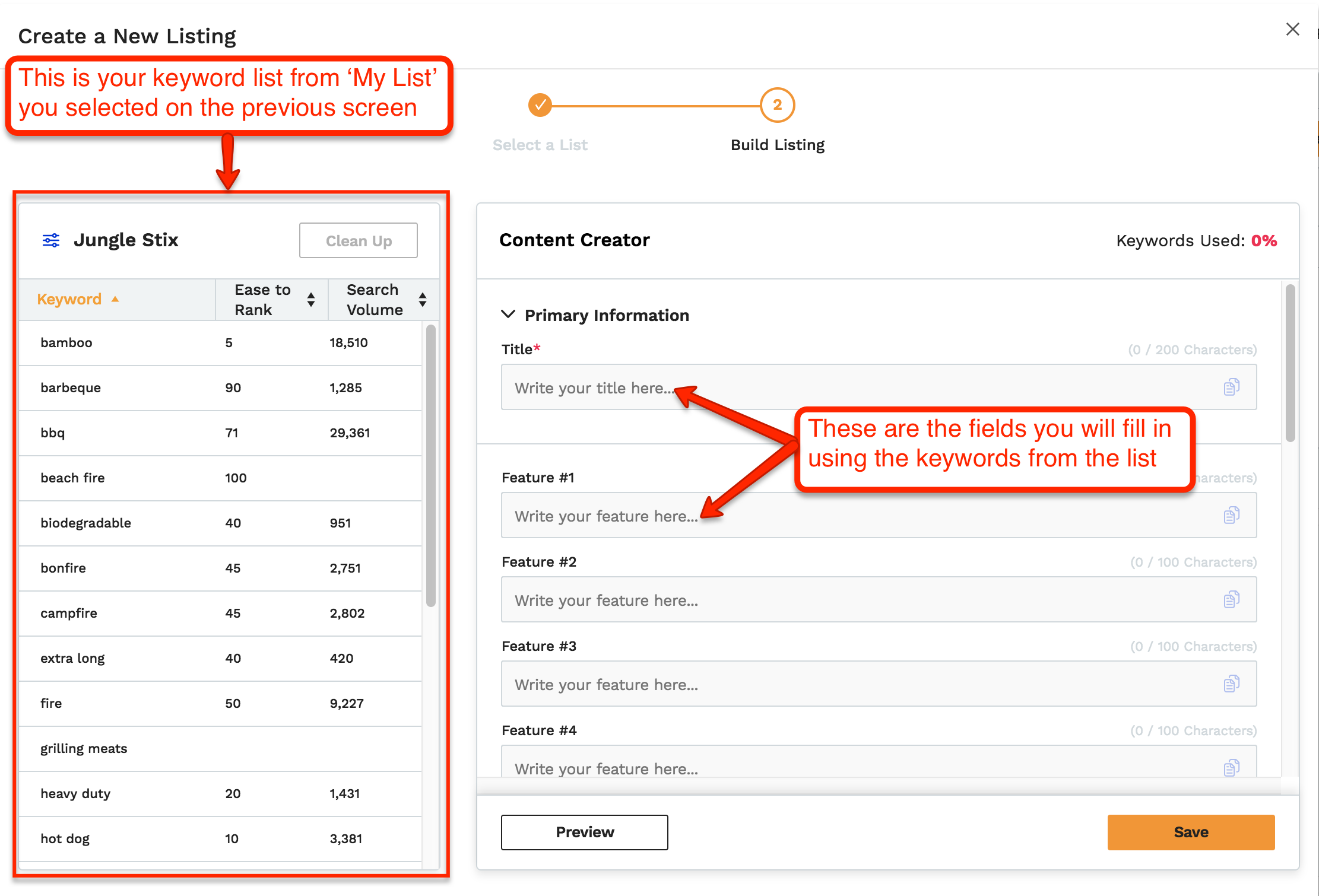 Use the information given such as Ranking and Volume as well as your knowledge of the product to craft the listing.
Although its a well-guarded secret as to how Amazon weights the different fields of a listing for indexing purposes, we recommend working in this order to maximize indexing potential: 
1. Title
2. Subject Matter
3. Backend Search terms
4. Bullets
5. Description
As you are creating your listing and using your keywords they will begin to show as used in your list on the left. The word becomes greyed out, struck through and has a check mark to indicate that you have used that keyword and no longer need to use it in your listing.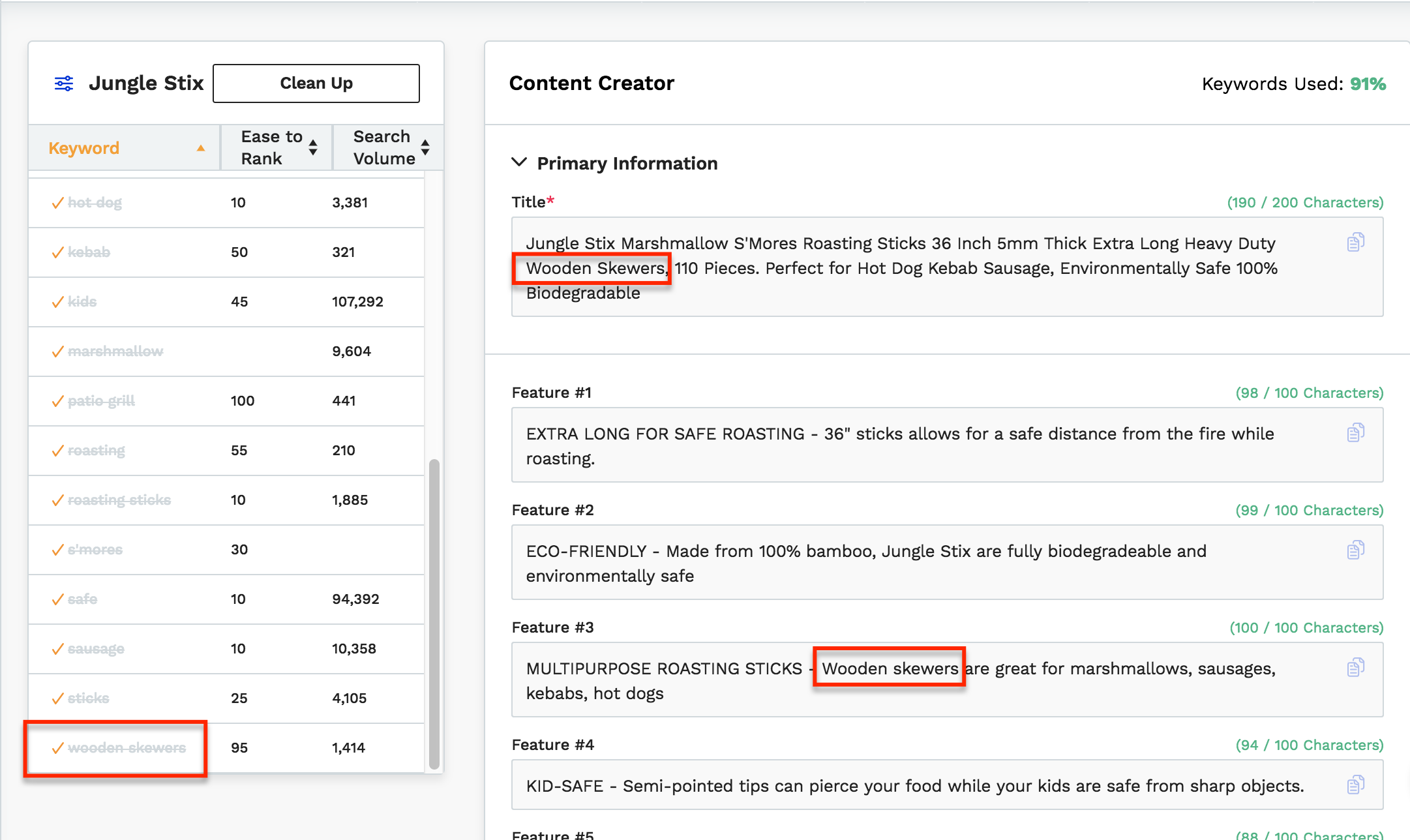 While there is little need to repeat keywords in your listing for indexing purposes, words are often repeated in different parts of the listing to ensure the customer has all the information they need to follow through with the purchase. 
Above you can see that several words are repeated from the title to the features. The keywords in the title are most likely being indexed while the same keywords in the features are being used to describe the product to the customer.
It is often impossible to get all of the relevant keywords into your title and have it make any sense, which is why it is important to include those terms in the other important fields of your listing such as the Subject Matter and Backend Search terms. You want your listing to be a good balance between making Amazon happy for indexing purposes as well as making the listing logical and informative from a customers point of view so they actually buy the product. 
As you are working you can use the Clean Up button at the top of your keyword list to move all the unused keywords to the top and the used words to the bottom. This will allow you to see what words you still need to use in the listing more easily.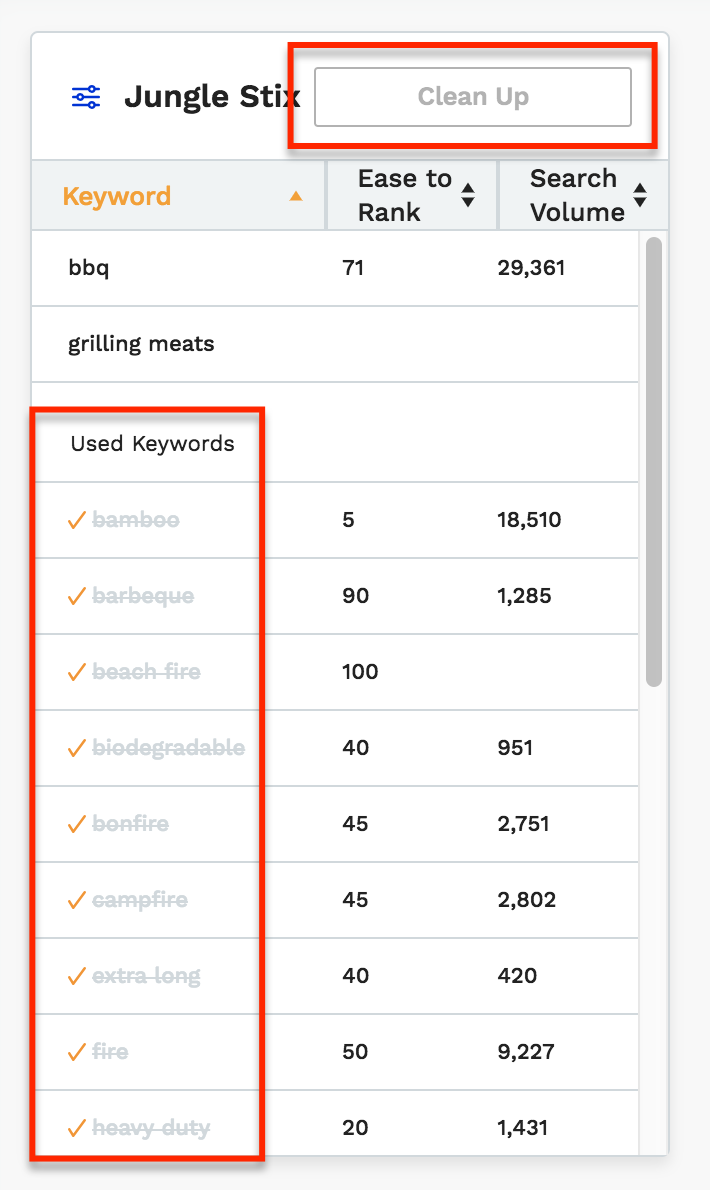 Once you have used all of the keywords from your list somewhere in the listing, the 'Keywords Used' metric in the top right of the Content Creator will now be green and show '100%'.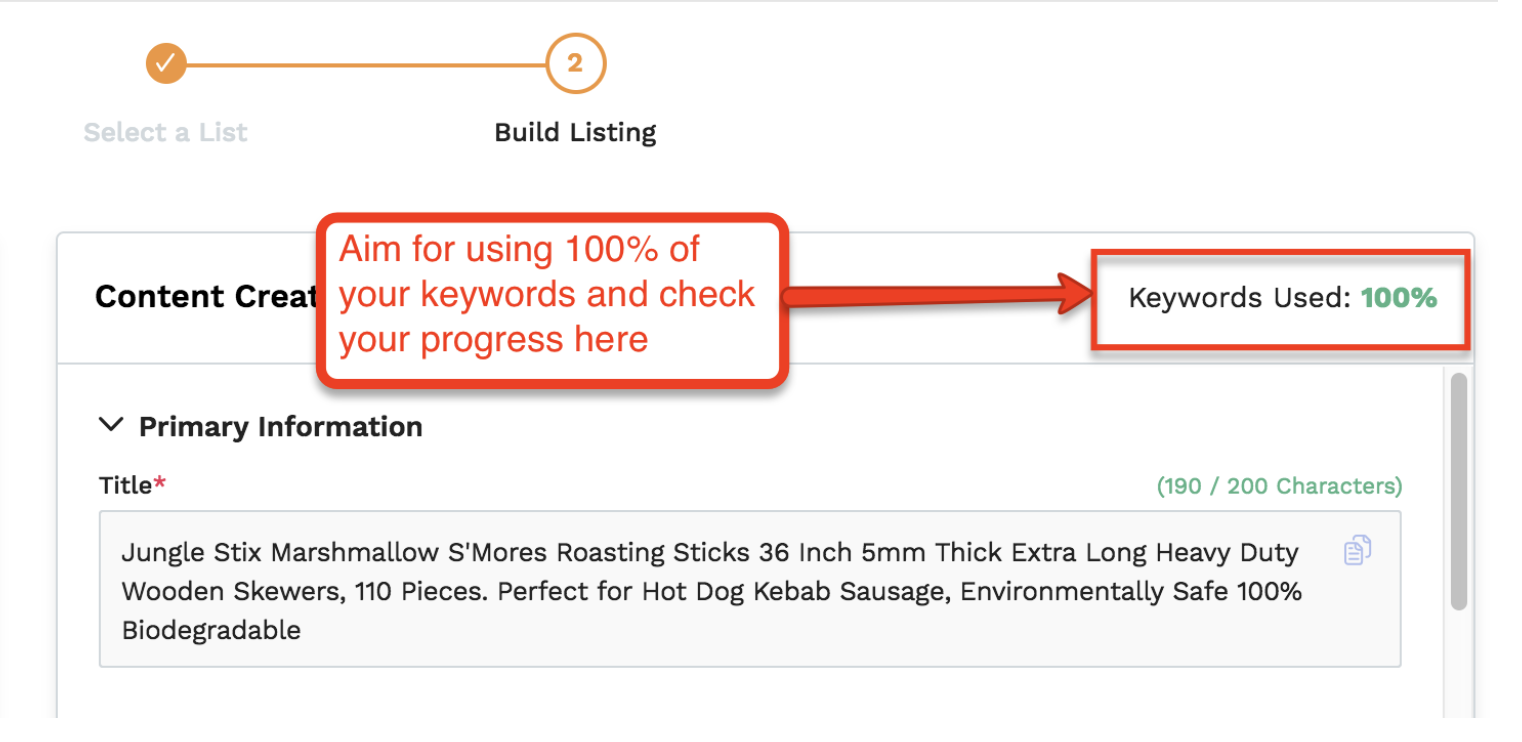 Each individual field also has a progress counter which will move from yellow to green to red depending on how many characters you have used compared to the limits for each field. 
Red indicates you have used less than 20% of the characters allowed OR gone over the limit of characters allowed. 
Yellow indicates you have used more than 20% but less than 50% of the characters allowed.
Green indicates you have used more than 50% of the characters allowed.

Aim to get all fields as close to the limit allowed without going over. If you go over the limit Amazon will ignore that field and none of the words in it will be indexed. 
Once you have used all of your keywords and crafted the perfect listing you can preview how it would look on Amazon by using the Preview button on the bottom left of the Content Creator pane. This can help you spot mistakes or areas where you want to change your wording. Once you are happy with how your listing looks you can save this outline for when you are ready to copy it to Seller Central.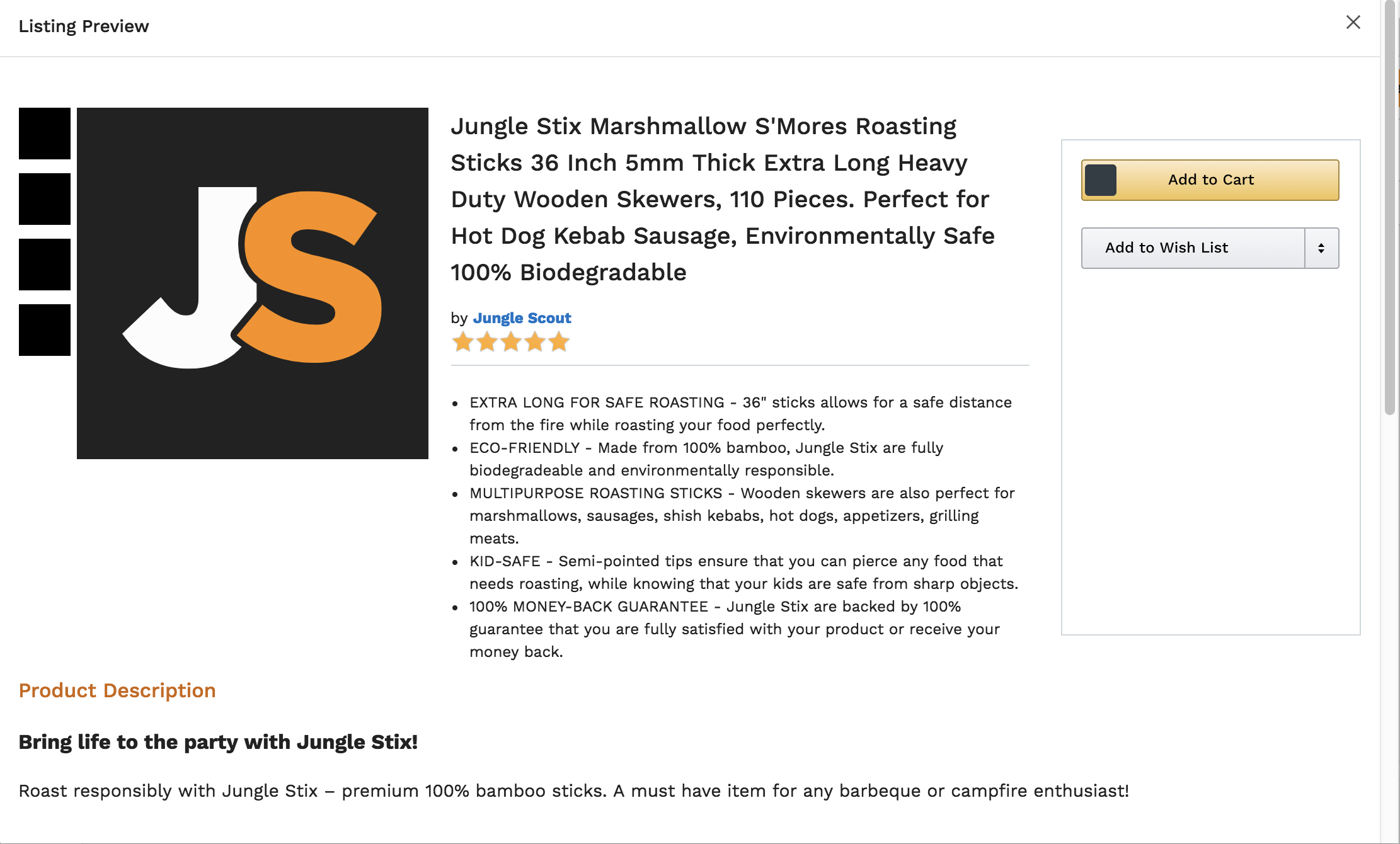 Keep in mind that when you create your listing in Seller Central there will be additional components not outlined in Listing Builder such as pictures, pricing and product specifications. Listing Builders' goal is to help you organize your keywords and make sure they are all included in your listing so that your product will move up the ranks as quickly as possible. The listing preview is intended to be used as a guide to allow you to see what your listing will look like at a base level once it is live.   
Back on the main Listing Builder page you will now see the listing you created. Here you can change the status of your listing from in progress to complete as you wish. These designations are only internal notes to you and will not affect your listing on Amazon. They are intended to be used as a way for you to keep all of your listings organized based on whether the listing is complete or you are still working on it. You can also sort your listings by any field or search for a listing using the search box at the top. 

If you need to edit a listing simply use the down arrow to the left of the Title to expand the Listing Builder for that listing.
You can also use the Duplicate button to the right to make a copy of a listing. This may be helpful if you have several different variants of the same product and want to start each listing with the same base information and use the same Keyword List. There is also a Delete option as well in case you need to remove a listing you have created.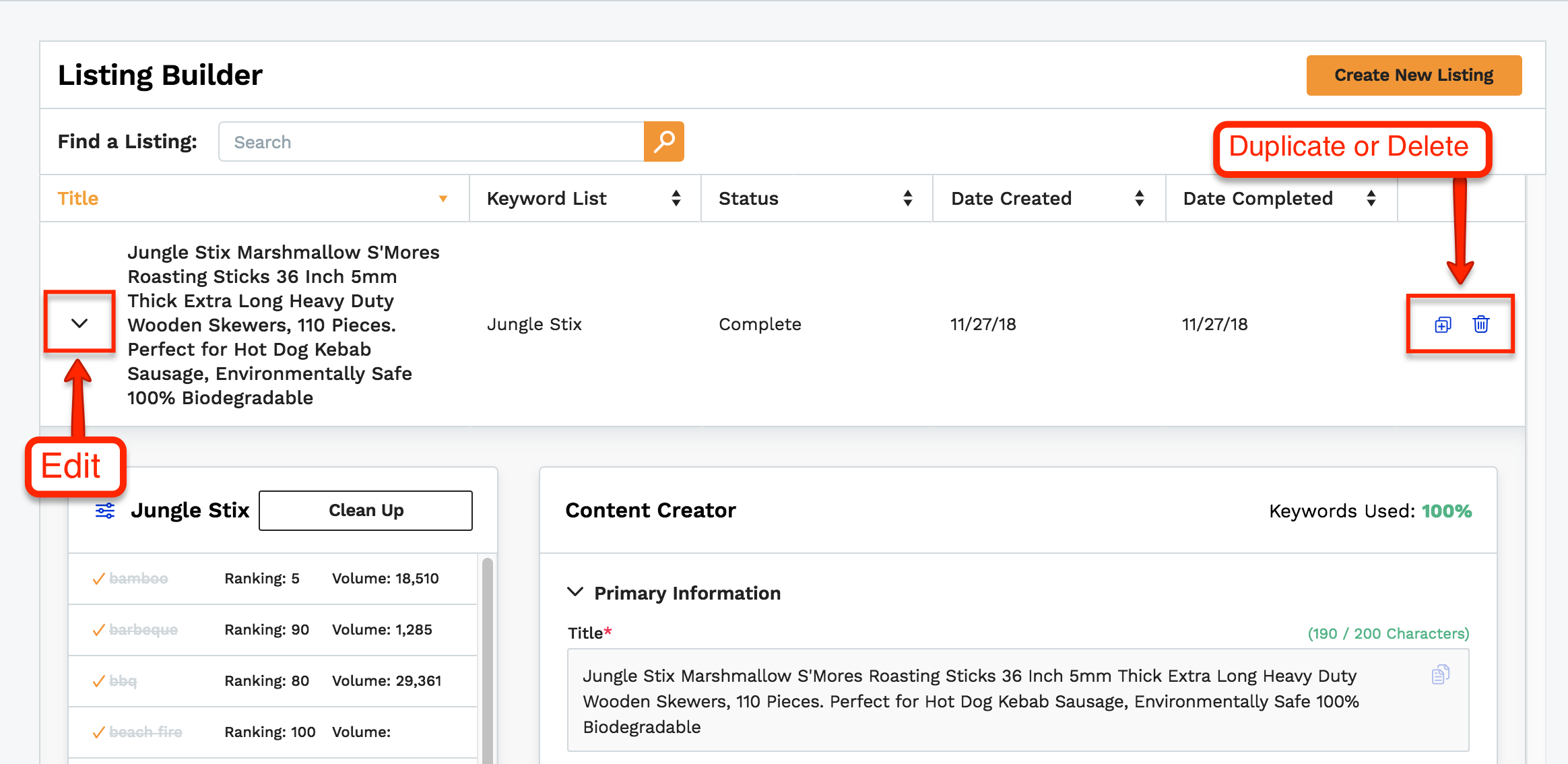 When you are ready to create your listing in Seller Central you will copy all of the information you entered into Listing Builder right into the corresponding fields in Seller Central.  Listing Builder will also copy the HTML code so you won't lose any styling you have done in Listing Builder. For more information on copying your listing to Seller central check out this article: How to create your listing in Seller Central using Listing Builder