You can find Rank Tracker within the Keywords grouping in the left-hand navigation panel. This option can help you monitor the keyword performance of your listing and your competitors'. Assign keywords to product-specific groups and track them to gain insights that will help you optimize your listings and manage your PPC spend.
Creating a Group
If you plan on tracking keywords for similar products, we recommend you use the group option to organize them. You can edit the default New Group option by clicking the ellipsis menu to give it a customized name or clicking the + tab to create a new one.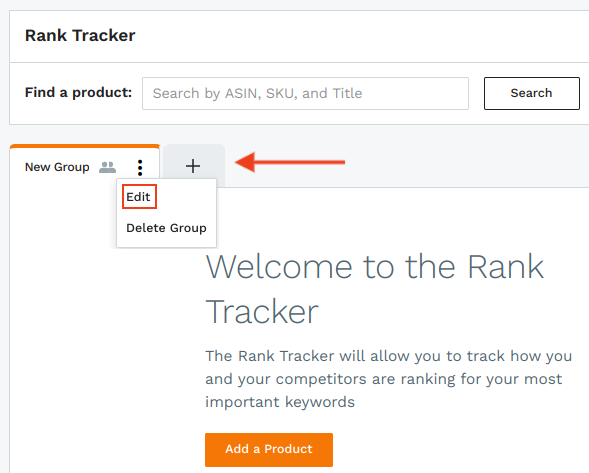 If you create a new group, you just need to give it a name and choose whether you'd like to share access to the rest of your team (in case you have

📖

additional users in your plan).
Next, just click

Add Product to open the Rank Configuration view

Step 1. Add a product
To enter a new product choose one option from the dropdown. You can add one of your own products (My Products) or enter an ASIN (Enter New)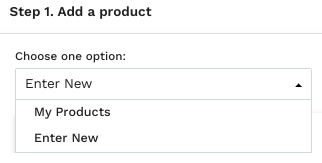 My Products: Select the product you want to add from the pre-populated list in the dropdown

💡 Keep in mind that you need to connect your Seller Central account in order to have access to My Products. Make sure you read our 📖 Adding and Syncing your Amazon Seller Central & Jungle Scout Accounts article if you need more info on how to complete this step.
Enter New: Choose the relevant marketplace from the drop-down menu and enter the ASIN you want to track keywords for. This can be your own product or a competitor's.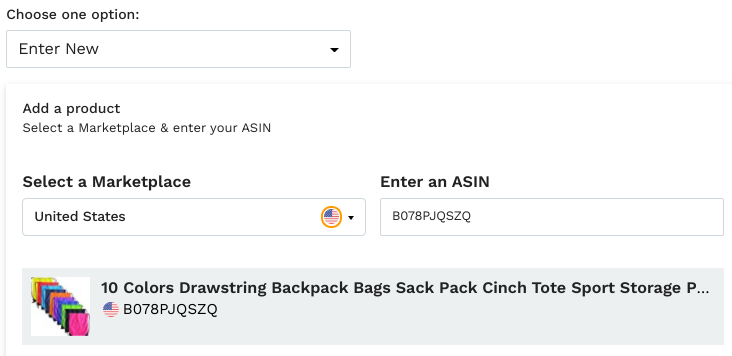 Once you've selected a product to add to Rank Tracker, you need to select whether you want to run a reverse ASIN search (this will pull the top 50 keywords this product is ranking for). This option is selected by default. Just click the box to disable if you'd rather skip this step.

Step 2. Add Keywords
If you chose to run a reverse ASIN search, you'll notice a pre-populated selection of keywords below the Keyword bank even before you complete step 2.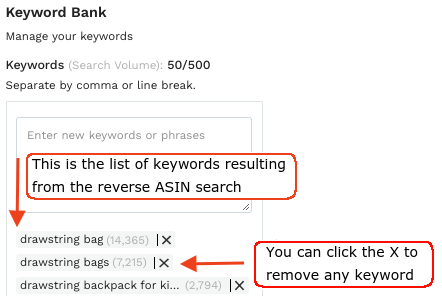 Next, you can choose to add keywords from a previously saved 📖 Keyword List (just select a list from the dropdown) or add keywords manually by typing them directly in the Keyword Bank box (to enter keywords manually, add keywords or phrases on separate lines, one value per line).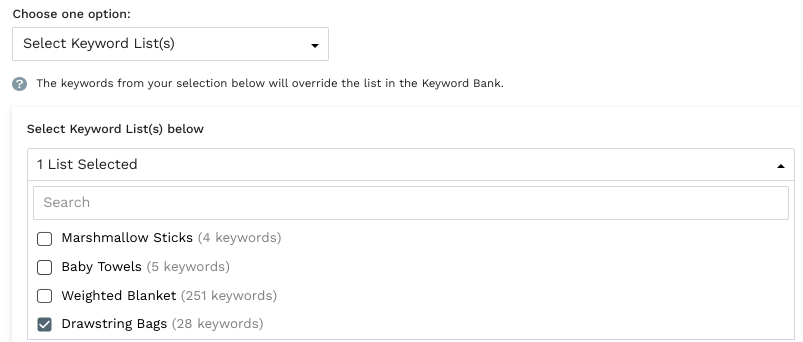 💡 Do note that if you enter keywords manually in the Keyword Bank and then decide to choose one of the options from the dropdown, the keywords from that selection will override the list in the Keyword Bank.
You can also choose to add keywords from competitor ASINs. Enter up to 9 ASINs and we'll pull the top 50 keywords these products are ranking for and add them to the Keyword Bank. Please note that if there are any keywords within the top 50 that are shared between those products, the system won't add any duplicates.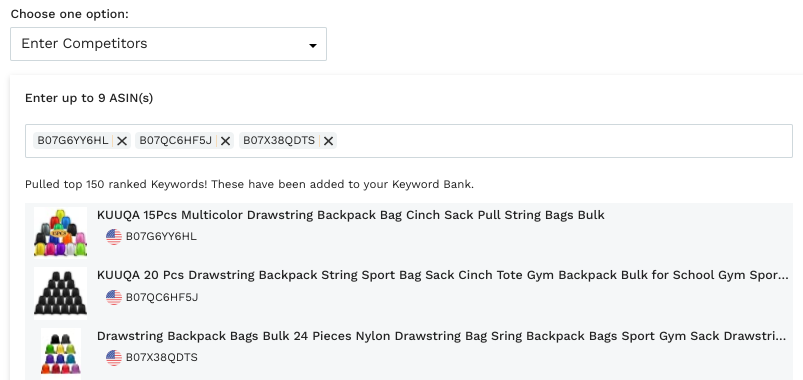 Note that you can add keywords from all 3 options: Keyword List, competitor ASINs, and manual entries (+ the reverse ASIN search you can run in step 1). Just be mindful of the order and the keyword limit (5,000). Start with the dropdown options and finish adding any manual entries to prevent them from being overwritten.
Once you are happy with the list of keywords, click Save to access the Keyword Details view (make sure you read the following article to learn all about the 📖 data displayed in this section).
3. Customizing the Product Information View
You will see the following information in the Product Information main view:
Index/Tracking:

This tells you the number of Keywords you are currently tracking for a specific product out of the 500 limit. There's a limit of 500 keywords per ASIN and a limit of 5,000 keywords overall.
Top 10: This shows you how many keywords in this listing are among the Top 10 ranked keywords for organic results.
Top 50:

The number of keywords in this listing among the Top 50 organic results.

Product Reviews:

Number and rating of product reviews
LQS or Listing Quality Score:

An in-house algorithm that we use to measure the quality of a listing and it goes from 1 to 10 with 10 being the best possible score. It takes into account the length and keyword richness of a listing's title, it's bullet points, description, as well as the number and resolution of the photos on the listing
BSR (Best Sellers' Rank):

This indicates how well an ASIN is selling within its parent category
Date Added:

The date you added and started tracking a product
You can sort products by clicking on any of the column headers except for Index/Tracking or Date Added
You can also select which of these columns you want to include/exclude from the Product Information View by enabling/disabling them from the column's dropdown: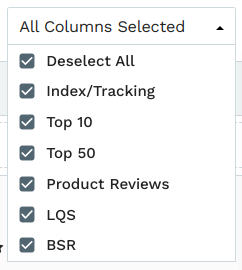 Finally, you can click on any product name to access the 📖 Keyword Details view and see additional information related to the specific keywords you added. In this section, you'll also be able to export the keyword table to help you manage your PPC campaigns and ad spend.