Using your MWS Auth Token will effectively sync your Seller Central and Jungle Scout accounts to import all your products and data. This will allow you to see and enable the products you'd like to use for Promotions and Email Campaigns via Launch, assess the profitability of your Amazon business with Sales Analytics, receive Product Alerts, and use Inventory Manager among other seller features.
How can I Link my Amazon & Jungle Scout Accounts?
Here's a handy video that'll run you through this process:
If you prefer written instruction, just follow the next steps:
Access your Settings from the left-hand navigation panel
Select Amazon Settings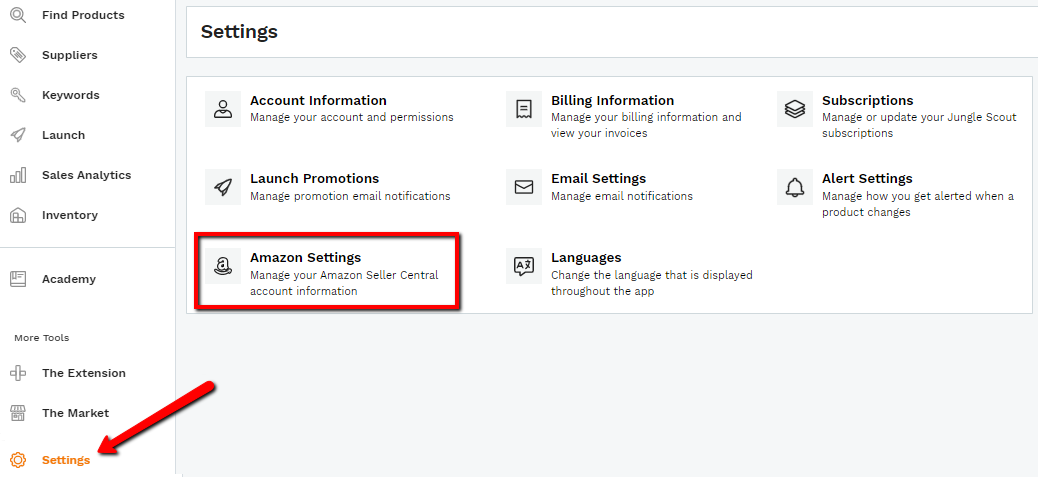 Click the Add New button
Choose the region of your Amazon account followed by your primary marketplace.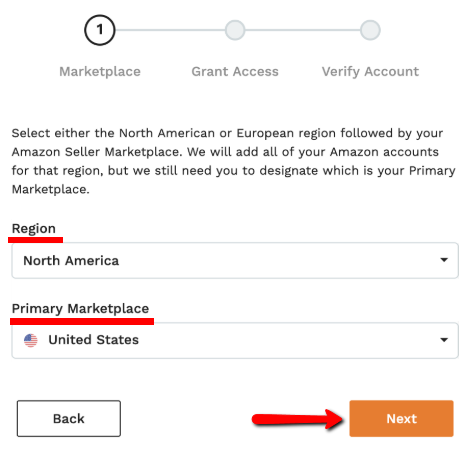 💡 Choosing the correct region for your account in this step is very important as there are different Jungle Scout credentials for North American accounts and European accounts. The specific credentials for each region can be found at the bottom of this article for reference.
Next, follow each of the 3 steps on the pop-up window to start the sync process: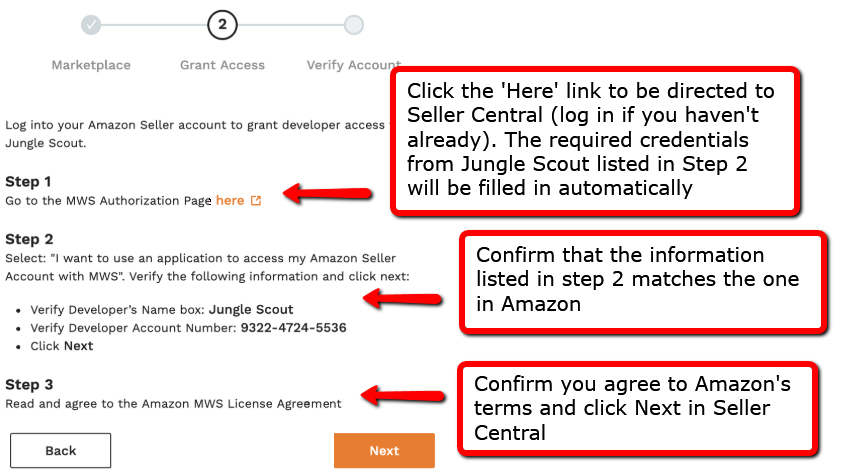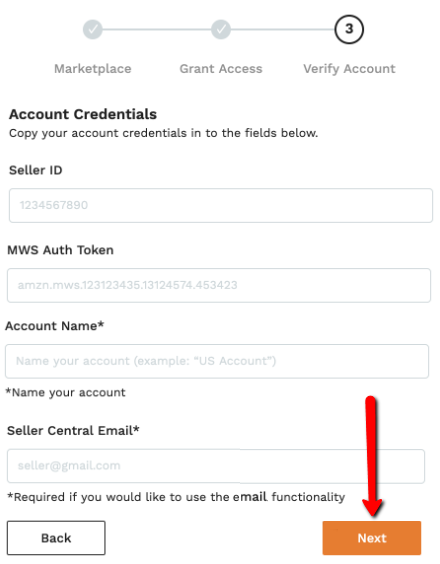 If you successfully granted access in Seller Central you'll receive a congratulatory message. Next, you need to enter these credentials in Jungle Scout to complete the process. So...
Go back to Jungle Scout and click next on the (first) pop-up. On the next page, you'll be able to enter your Seller ID and MWS Auth Token from Seller Central
Finish the process by naming your account and entering the email address you use to login to Seller Central.
Click next to complete the process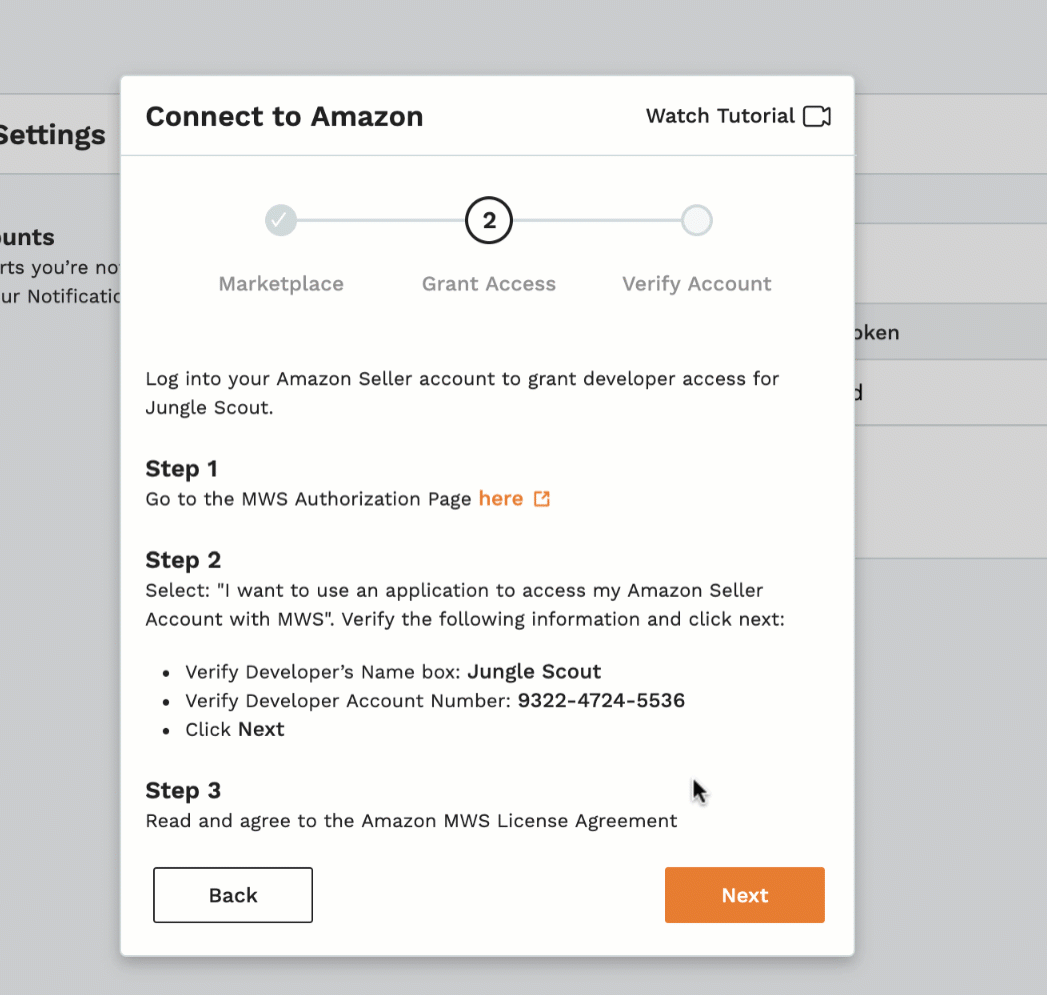 If your accounts were successfully synced you will receive a confirmation message and a syncing progress bar will appear at the top of your screen. This bar indicates how much of your Amazon account data has been imported so far. It may take a few hours to complete this process, depending on the size of your account.
If for some reason the sync was not successful you'll see an error message in the top right corner letting you know what went wrong. Correct this issue to try and sync your account again.
You can add additional Amazon accounts to Jungle Scout at any time, just follow the same steps. You can also remove or resync existing Amazon accounts directly from your account settings. Do note that only the Primary Jungle Scout account holder can add, edit, or delete Seller Central accounts from Jungle Scout.
Jungle Scouts developer credentials:
North American regions (.com .ca .mx):
Application Name: Jungle Scout
Application Developer Account Number: 9322-4724-5536
European regions (.uk .fr .it .de .es)
Application Name: Jungle Scout
Application Developer Account Number: 9185-9092-4772
💡 If you have already added and connected your Amazon account to Jungle Scout but the data is no longer syncing or you have received a notification that we no longer have access to your account, please read the following article for instructions on how to fix this issue:
📘 How to update expired or revoked MWS Auth Tokens
❓ Questions? We are always here to help! Please shoot us a message at support@junglescout.com or create a ticket by filling out this form.