There are a few possible reasons why the Opportunity Score might be missing from your extension:
Troubleshooting
Make sure you have the most recent version of this tool. The extension should get updated automatically, but you can "force" a refresh by toggling it off/on.



Go to chrome://extensions/, look for 'Jungle Scout: Extension,' and move the slider to the off position and then turn it on again: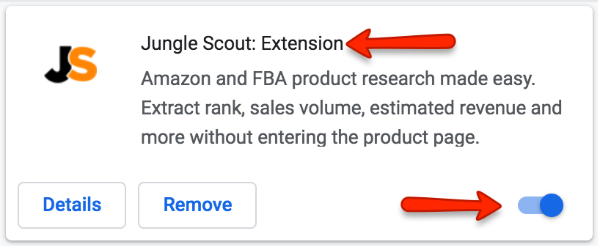 The next thing to verify is that you are on an Amazon Product Results page before running the extension. The Opportunity Score won't be displayed on an individual product page as there will be no metrics for demand, competition, or listing quality other than the single product.



Please open this link and run the extension. You should see the Opportunity Score on that page. If you don't see this information, then please make sure that the "LQS" column is enabled inside the "Customize view" options.
Click Customize View
Select the LQS option from the list of columns
Click Apply
​​
​
​​The extension will refresh, and the Opportunity Score should be displayed in the top right corner.
If you are still having issues after running through these steps, we recommend going over the instructions in the following article: Extension → Installing, Uninstalling, or Reinstalling Extension